The Legend of ZeldaWiiU Video Games
Video Games Encyclopedia by Gamepressure.com
Wii U is the 8th generation console from Nintendo and a successor to Wii. It was released almost all around the world in November 2012. Wii U had many new features (with GamePad controller on the top of the list) and significantly better performance, but it didnít manage to repeat the big success of its predecessor; actually, it wasnít even close. Thatís why less than 3 years after the release of Wii U the world began to spread rumors about the consoleís successor, initially codenamed NX.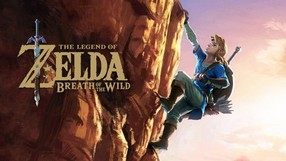 The Legend of Zelda: Breath of the Wild (WiiU)
Action 03 March 2017
Another installment in the popular action-adventure game series by Nintendo, and also the first game in the series for WiiU. In The Legend of Zelda: Breath of the Wild, you play once again as the main character of the franchise, Link, who gets involved in yet another exciting and dangerous adventure as he tries to learn what led to the downfall of the land of Hyrule. The gameplay is a combination of several genres: adventure, action RPG, and even survival. During the game, you explore the open world, solve puzzles and fight enemies; the combat is arcade-like and requires you to use varied tactics. You also have to gather resources in order to prepare food and drink, which affect your abilities, just like pieces of equipment.
The Legend of Zelda: The Wind Waker HD (WiiU)
Adventure 20 September 2013
The Legend of Zelda: Twilight Princess HD (WiiU)
RPG 04 March 2016
A remastered version of The Legend of Zelda: Twilight Princess, a game initially released in 2006 on GameCube and Wii consoles. The new version was developed by Australian studio Tantalus, which specializes in converting popular titles to various gaming platforms. Similarly as in most other installments in the series, the main character is a young man named Link, who begins a new journey, this time to help the children kidnapped from his village by monsters. When the protagonist reaches the Twilight Realm and is transformed into a wolf, he meets a mysterious creature called Midna, who promises to take him to princess Zelda's castle and help him in reclaiming his former shape. HD version isnít very different from the original game, which was a combination of RPG and a third person perspective action-adventure game in which player was mostly exploring and fighting. In addition to noticeably improved graphics, the gameplay was slightly changed and improved.