Switch Racing Video Games
Racing games. Category of games about racing with rivals using various vehicles. Player's purpose is to be first on the finish line or to achieve the best lap time possible. There are titles with land, water and air vehicles which are controlled in an arcade or simulating manner. more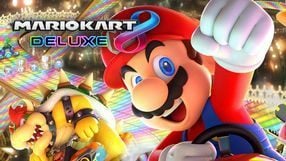 Mario Kart 8 Deluxe (Switch)
Racing 28 April 2017
An enhanced port of Mario Kart 8 developed for Nintendo Switch. Mario Kart 8 Deluxe reprises a lot of elements known from the two previous installments of the series, such as motorcycles, gliders, the ability to perform somersaults, or underwater racing. However, the developers introduced an interesting novelty – anti-gravity racing, in which we can stick to walls or even to the ceiling. The game doesn't contain a story-driven single player campaign – we focus on taking part in a series of competitions in which we can race against AI-controlled opponents, as well as other players. Mario Kart 8 contains several multiplayer variants, including online as well as local game modes (split-screen, or a wireless mode for up to eight players). The new edition contains all of the content present in the original game, including released add-ons, at the same introducing new tracks and characters, such as Inkling Girl, Inkling Boy, King Boo, Dry Bones, or Bowser Jr.
Fast RMX (Switch)
Racing 03 March 2017
A dynamic racing game developed by independent studio Shin'en Multimedia for the Nintendo Switch console. Fast RMX is sometimes called a spiritual successor to the WipEout series. The players control futuristic cars, with powerful anti-gravity drives on board, and participate in spectacular races, in which they can reach speed of hundreds of miles per hour. In Fast RMX you get to compete for victory on 30 diverse routes, set in such places as vast metropolises, canyons, or snowy mountains. The key to victory lies not only in proper handling of the vehicle of your choice, but also in having perfect knowledge of individual routes, which are filled with various power-ups. Fast RMX can be played either solo or in company of other players in local or online modes. The game sports high quality graphics and smooth animation displayed in 60 frames per second.
Redout (Switch)
Racing December 2017
A futuristic racing game created by an independent studio 34BigThings. The action of the game takes place in 2560, when humanity depleted all natural resources on Earth. Then, they moved on to other planets, with Earth becoming a location for various spectacles, including the Solar Redout Racing League – our character's bread and butter. The competition focuses on spectacular races of ultra fast anti-gravity hovercrafts, varied in performance and looks, that handle a lot like quad-copters. Each of the twenty racing tracks is scattered with power-ups such as shields, repair drones, or booster packs. Redout includes both a single player career mode, as well as multiplayer variant for up to 12 players. The game employs the Unreal Engine 4 technology, ensuring the visuals are high-quality. Additionally, the title supports virtual reality goggles, but they are not obligatory.