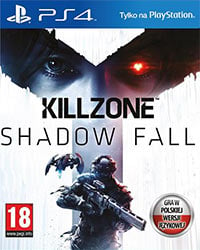 Killzone: Shadow Fall | PS4
Killzone: Shadow Fall release date for PS4:
game language:
English
15 November 2013 | Worldwide
29 November 2013 | Europe PAL
15 November 2013 | USA NTSC
Game mode: single / multiplayer , multiplayer mode: Internet
0 Game score 7.3 / 10 calculated out of 984 players' votes.
Expectations before the premiere: 8.5 / 10 calculated out of 136 players' votes.
Killzone Shadow Fall takes place 30 years after the events of Killzone 3. Set in an era of interplanetary colonization, it focuses on the conflict between the Vektans and the Helghast, two rival colonist factions inhabiting a distant planet. For three decades, both factions have lived side by side, separated by an enormous security wall – but now their cold war is about to go hot.
It's up to Lucas Kellan, a member of the military intelligence unit known as the Shadow Marshals, to try to protect the fragile peace that exists. A new warrior for a new era of war, Kellan 's missions will range from quiet infiltrations to all-out combat. Lucas will need to be methodical and ready to adapt, as any misstep could lead to mutually assured destruction!
Killzone Shadow Fall returns to the setting of the first Killzone game: the lush, Eden-like planet of Vekta and its glorious capital, Vekta City. A hydro-powered ecological dream-city built along the edge of an enormous water dam, Vekta City was designed to be the crown jewel of human civilization in the Alpha Centauri system.
Following the cataclysmic chain of events that destroyed planet Helghan and abruptly ended the war in Killzone 3, the Helghast survivors and ISA remnants have settled into an uneasy truce. As part of the post-war reconciliations, the Helghast have been granted their own territory on planet Vekta, walled off from the Vektan side.
Similar games:
PEGI Rating