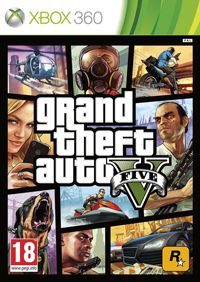 Release Date(s)
17 September 2013 Worldwide
17 September 2013 Europe PAL
17 September 2013 USA NTSC
Game Mode(s) single / multiplayer
multiplayer: Internet
This game has Editor's Choice Recommendation.
"Grand Theft Auto V", the next installment of the renowned action game series developed by Rockstar North takes you to a place resembling California. In the universe of "Grand Theft Auto" this particular state is called San Andreas and the city – Los Santos. Rockstar, once again, remodels the reality mocking at ideologies, products, events and human behavior. The creators improved every aspect of the game.
"Grand Theft Auto V" presents you three completely different characters: Michael – a former bank robber from the East Coast, now being under the witness protection program, Trevor – retired military pilot suffering from mental disorders and Franklin – young man from the ghetto, collecting cars from debtors of a local Armenian dealer. Each of them represents other social background, presented in the game in a detailed manner. The storyline and gameplay enable switching between those three characters at any time, so you can explore the world of Los Santos and be in the center of the action.
The main metropolis of "Grand Theft Auto V" and its diverse surroundings – mountains, deserts, cliffs, fields, valleys, military bases, and even the coastal zone of Los Santos with submarine canyons and coral reefs are the largest world ever created by the Rockstar North developers. It is the outcome of countless expeditions mixed with statistical data on the California population. Therefore, almost each element of the city seems very natural – from the behavior patterns of individual pedestrians, to the most popular vehicles found on the streets and traffic management system.
The exploration of the world presented in "Grand Theft Auto V" is spiced with mini-games (tennis, yoga or golf), but the core are the missions during which you control one, two or even three characters. Usually, your missions focus on robbing a bank or a shop, however, there are also random missions triggered in various locations. Some of them relate to the characters' friends or members of their families, thus exploring their personal threads. Michael has to solve family problems with his wife Amanda and children – Tracy and Jimmy, Trevor wanders around with Ron, who sees conspiracy theories everywhere, while Franklin has to deal with his crazy friends, e.g. Lamar.
The creators offers you numerous vehicles – from bicycles to water scooters to airplanes and helicopters. The car driving mechanism has been improved and now resembles the one found in racing games. Again, the game features Ammu - Nation weapon chain store. Moreover, melee skills gain in importance. The developers decided to stick to the mechanism that modifies character stats, i.e. use certain skills (e.g. shooting or driving vehicles) to master them. You can collect money to spend it on equipment, clothes, cars, yachts, and even real estate. An interesting improvement of the economic system is stock market featured in several story missions.
When it comes to audiovisual layer, the game offers a dynamic soundtrack perfectly adapting to the pace of on- screen events. The graphics is based on a modified version of the engine created by Rockstar Games, i.e. RAGE (Rockstar Advanced Game Engine). It enables rendering large areas of the game world and features advanced system of shading and lighting simulation. As in the previous parts, the developers replaced photorealism with graphics underlying aspects of modern metropolis of Los Santos.
"GTA V" offers extensive gaming network called GTA Online. In multiplayer mode players create their characters and level them up completing missions or minor challenges – gang wars, racing, or parachuting. 16 people can take part in a single game session playing in one world. Players can fight with each other, organize attacks or take orders (these events are for 2-10 people).
Grand Theft Auto V XBOX 360 game score 9.4 / 10 calculated from 5290 players' votes.