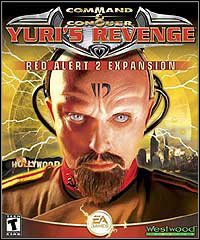 Release Date(s)
17 October 2001 Worldwide
17 October 2001 Europe
Game Mode(s) single / multiplayer
multiplayer: local network / Internet number of players 1 - 6
Yuri's Revenge is an expansion pack which enriches the basic version of Red Alert 2 with many new elements which make the gameplay even more fun. This includes:
New side of the conflict, Yuri's Psychic Army, right next to the Allies and Soviets.
Fourteen new missions for the single player mode, in which you will face the dangers caused by Yuri's forces.
Ten new missions for the multiplayer mode, in which you can take whichever side of the conflict.
New units, buildings, and vehicles. For example: Virus – sniper shooting poisoned bullets; Brute – powerfully built, genetically modified footman able to destroy vehicles; Boomer – submarine equipped with powerful rockets and able to attack objects placed on shallow waters; Slave Miner – mining vehicle equipped with an on-board refinery.
New locations in which the action takes place: Hollywood, London, Cairo, Transylvania, etc.
Over an hour of new, high-definition, filmed cut-scenes.
Command & Conquer: Red Alert 2: Yuri's Revenge PC game score 7.5 / 10 calculated from 753 players' votes.
System requirements
Recommended: Pentium II 266MHz, 64MB RAM