EgyptPC Video Games
Video Games Encyclopedia by Gamepressure.com
PC (Personal computer) - one of the most popular home platforms and the only one which doesn't offer playing video games as its main purpose. PC was born in the 1970s, but it is impossible to give an exact moment of its birth or even a name of its creator. However, IBM is the one who gave computers their present shape, using, at the beginning of the 1980s, an idea of open architecture – which is today one of the most important differences between computers and consoles.
The foundations of PC as a gaming platform are currently systems of digital distribution of video games (Steam, Origin, Uplay) and MMO games that mostly work in f2p (free-to-play) model.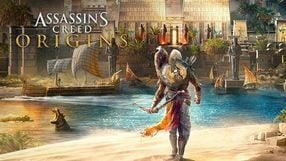 Assassin's Creed Origins (PC)
Action 27 October 2017
The seventh major installment in the Ubisoft's best-selling action game series. Plotwise, Assassin's Creed: Empire is a sort of prequel to the entire series, taking players so far back in time as none other installment did - to the ancient Egypt, long before the two opposing orders of Assassins and Templars were founded. Players play the part of a slave, a distant ancestor to Altair - the protagonist of the first Assassin's Creed. Concerning mechanics, the title does not differ significantly from previous installments of the series, still being primarily an adventure game, supplemented with action sequences and carefully planned assassinations. The game world was, of course, with reverence typical of the franchise, adapted to the new setting, bringing back things like the possibility to mount animals or use boats. On the technical side, Empire is said to avoid relying on the achievements of previous installments, while our area of activity is approximately three times larger than what was offered by Assassin's Creed IV.
Predynastic Egypt (PC)
Strategy 10 October 2016
A turn-based strategy game developed by independent studio Clarus Victoria. The title takes place in the ancient Egypt. The player controls one of the tribes that live there and he is tasked with securing its growth. The general goal is to transform the tribe into the ancient empire known from the history books. Predynastic Egypt is a turn-based game in which the action takes place on a two-dimensional map. The map was reconstructed based on archeological discoveries, historic writings and climate changes that happened between 5000 BC and 3000 BC. The objective during the game is to expand to new territories, to gather resources, to produce food, to develop new technologies and to create possibly largest and most advanced army that could face the greatest opponents. What makes things complicated is the fact that player's suspects are frequently forced to face natural disasters and epidemics. Religion can impact their lives as well. The title features simple, clean graphics and catchy soundtrack.
Traps n' Gemstones (PC)
Arcade 23 July 2014