SurvivalSwitch Video Games
Video Games Encyclopedia by Gamepressure.com
Nintendo Switch is the successor of Nintendo Wii and Wii U consoles and is widely considered to be the first hybrid console on the market. It allows users to play games either at home on a big TV screen or while travelling. This is possible thanks to its revolutionary design, which combines features of both stationary and handheld consoles. It is composed of two main parts: the console unit, which is a 6.2" screen tablet based on Nvidia technology, and the docking station necessary to connect the console to a TV set. Nintendo Switch was released worldwide on March 3, 2017.
Action
Arcade
Fighting
RPG
Strategy
Adventure
Sports
Racing
Simulation
Logic
Party
MMO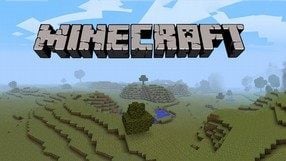 Minecraft: Nintendo Switch Edition (Switch)
Action 11 May 2017
A sandbox game that defies classification, developed by the independent Mojang AB studio. Minecraft has been developed with the intention of unleashing the creativity of players, who can freely change the game's virtual world made from voxels (cubic blocks). The gameplay concentrates on terrain transformations, building structures, crafting items, and creating your own adventures. The game consists of two modes: a classic one, which allows for unending experience, and survival, in which we have to prepare to fend off monster assaults at night. In addition to single player, Minecraft also offers online multiplayer. The game from Mojang AB is distinguished by its unique retro visuals.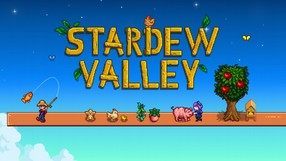 Stardew Valley (Switch)
RPG 05 October 2017
The debut production from the independent studio Concerned Ape. It is a sandbox RPG that focuses on the life of a farmer. Stardew Valley takes place in a fantasy realm filled with magic, where the player becomes a young farmer whose ambition is to transform his small field into a giant farm generating great profits. The main task of the player is to plant plants, gather the crops and expand the farm with new infrastructure and agricultural products. In order to be more interesting, the game also feature some RPG elements. One can also take active role in the life of the nearby village Ė make friendships and interact with the inhabitants of the settlement. This unlocks new challenges and earning opportunities for the player. As the game progress, the protagonist gains experience and learns new skills such as farming, mining, fishing, or animal feeding. One can also get married and have children in this randomly generated world.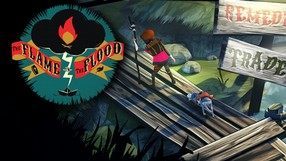 The Flame in the Flood (Switch)
Action 12 October 2017
A post-apocalyptic survival action game created by The Molasses Flood, an indie developer studio that hires several industry veterans who previously worked on such titles as BioShock, Halo, or Guitar Hero. The gameís protagonist is a woman named Scout, who, together with her dog, follows a long river in search of a rescue awaiting at the riverís far end. The gameís world is inspired by typical American landscapes, such as national parks, the Mississippi Delta, or Bayou. In order to survive, you have to acquire food and look out for the protagonistís health. If she suffers injuries, you have to treat her with bandages and herbs; spending some time in a shelter, where the character can rest and regain strength, would also be a good idea. Gameplay is supplemented with a crafting system, allowing you to combine the items you find into useful tools. The game features atmospheric, cartoonish graphics, and soundtrack composed by highly regarded alternative musician Chuck Regan.