Might & Magic: Heroes VI
The sixth main entry in one of the most popular turn-based strategy fantasy games, started by the legendary developer New World Computing in 1995. To refresh the series, the development has been entrusted to the team at Black Hole Games, known from highly-rated RTS games Armies of Exigo and Warhammer: Mark of Chaos. The game takes place 400 years before the events depicted in the previous entry and revolves around an intrigue of Angels trying to re-instill a long-forgotten war. The only ones able to stop its outbreak are the members of the House Griffin, who went separate ways a long time ago, all of them now leading their own factions. Gameplay is a classic combination of turn-based strategy with RPG features, supplemented with some new solutions, like the reputation system, lack of separate screens for each town or the option to convert enemy cities into our own type of stronghold. As per new trends, the game offers astounding, three-dimensional visuals and social options.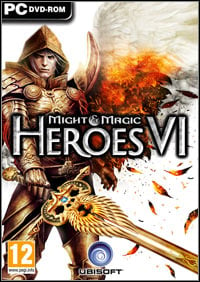 Might & Magic: Heroes VI | PC
Might & Magic: Heroes VI release date for PC:
game language:
English
13 October 2011 | Worldwide
13 October 2011 | Europe
13 October 2011 | USA
Game mode: single / multiplayer , multiplayer mode: Internet, size: 1 DVD
0 Game score 8.2 / 10 calculated out of 2567 players' votes.
Expectations before the premiere: 9.2 / 10 calculated out of 4959 players' votes.
Might & Magic: Heroes VI for PC / Windows is the sixth installment in the most popular series of turn-based fantasy strategy games. This time game was created by studio Black Hole Games – creators of Warhammer: Mark of Chaos.
Story
The epic story begins 400 years before events of Might & Magic: Heroes V. The main role is played by Angels who begin the plot in order to start again a long forgotten war. They seek for help from an Archangel who was a legendary general and was killed long ago – now he rises from the dead and seeks vengeance. He starts to uniite denizens of Ashan under his command under the false pretext of preparations for the upcoming invasion of Demons. Only men of Griffin dynasty can stop the Archangel – unfortunately, they have their own problems. The oldest daughter, Anastasya, murdered her own father, Duke Slava, and rose from the dead after she was executed for her crimes – now she leads the army of Undead looking to expand their territory. Her twin brother, Kiril, sold his soul to the Devil and now he rules Inferno in his name. And heir to the throne, Prince Anton, let Angels fooled him so he leads the heavenly crusade with their blessing.
Gameplay
Just like before, Might & Magic: Heroes VI for PC / Windows combines turn-based strategy with cRPG elements. We are exploring huge maps, gathering resources and building amazing cities. We can also develop our hero, recruit armies and face enemies on battlefields. We have also a good deal of freedom in roleplaying, thanks to the new reputation system which strongly influences the game. Worth mentioning is also expanded bestiary filled with many new monsters.
Basics of the gameplay are similar to those known from previous games in the series but developer implemented many changes and improvements. Town screen is simplified (initially there was only small window with static art instead of proper screen) but we can easier judge their level of development by looking on them just in the general view. In addition to this, after conquering a town of other race we can transform it into the one of our type (for example, after we seize Haven with demons we can turn it into Inferno with single click of mouse button to recruit ally forces and gain defence bonuses).
Technology
The game has modern 3D graphics and extensive social system which allows us to chat and compete with friends easily.
Similar games:
PEGI Rating
System requirements
Recommended: Core 2 Duo 2 GHz, 2 GB RAM, graphic card 1 GB (GeForce 8800 GTX or better), 8 GB HDD, Windows XP/Vista/7