Endless Space
A science-fiction turn-based 4X strategy game and a debut of Amplitude, a studio created by former employees of EA and Ubisoft. The game takes place in the distant future, in a galaxy inhabited by 8 rivaling civilizations. The player assumes the role of one of them and is tasked with leading his faction to domination over the others. The gameplay focuses on exploration of a randomly generated galaxy, developing economy, technology and diplomacy. The game also features epic battles of powerful armadas of spaceships which can be freely modified – the player can decide about the ship's engine, weapons and other systems. The skirmishes – similarly as the whole game – are turn-based and the player's actions are limited to supporting his troops or weakening the opponent with special action cards. Heroes, who can belong to one of five different classes with unique technology trees, have direct control over our fleets.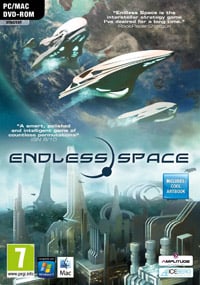 Endless Space | PC
Endless Space release date for PC:
game language:
English
04 July 2012 | Worldwide
04 July 2012 | Europe
04 July 2012 | USA
Game mode: single / multiplayer , multiplayer mode: Internet, size: 1 DVD
0 Game score 8.8 / 10 calculated out of 474 players' votes.
Expectations before the premiere: 9.3 / 10 calculated out of 43 players' votes.
Endless Space for PC / Windows is a turn-based space 4X strategy. It is a debut game of on independent Paris-based team, Amplitude Studios. The company was created by experienced, former employees of such companies like Electronic Arts and Ubisoft.
Gameplay
The action of the game takes place in distant future, in a galaxy inhabited by eight powerful civilizations. The player takes control of one of them and is tasked with dominating the others. What's interesting, both the strategic aspect and battles are played in a turn-based system. Each battle is divided into five phases during which player's activity is reduced to supporting his fleet or weakening the enemy fleet with special action cards. All sides perform their moves at the same time thanks to which multiplayer mode is much faster.
Hundreds of space systems can be found in the game world and each of them has unique planets, resources and secrets. Thorough exploration of various moons can lead to finding artifacts of long dead races. The virtual universe is generated randomly always when a new game starts. However, it is possible to set properties of the maps such as size, density of planets, their size, number per system or age of the whole galaxy.
Endless Space for PC / Windows offers spectacular space battles in which huge armadas can participate. However, war is not the only way to improve one's position. Diplomacy, economy and winning a technology race are an effective way as well. The game also has diplomacy options. Races can create alliances, cease-fire treaties, trade resources, technologies, even whole planet systems. There are also heroes in the game. One can assign them to manage a system or lead a space fleet. Heroes are divided into five classes and each class has unique development tree.
Graphics engine of the game allows immediate jumps from space duels to the strategic view where the space empire is managed. The developers created an advanced ship modification system which allows selecting drive, armor and systems of each unit.
Similar games:
Age Rating
age requirements: everyone
System requirements
Recommended: Core i5 2.6 GHz, 2 GB RAM, graphic card 512 MB (GeForce 8800 or better), 2 GB HDD, Windows XP (SP3)/Vista/7, Internet connection