Amnesia: A Machine for Pigs
A second entry in the adventure horror game series Amnesia. It has been created by the dev team at The Chinese Room and supervised by Frictional Games studio (creators of the original Amnesia: The Dark Descent). The Story of Amnesia: A Machine for Pigs focuses on the eponymous device; set in 1899, it puts players in the role of Oswald Mandus, a businessman who fell in a coma for a few months and lost his memories due to mysterious illness. When he wakes up, he discovers that the rest of occupants had disappeared, and a strange machine noise can be heard from below. We experience the game from an FPP view, which creates a feeling of true fear in conjunction with engrossing story and climatic audiovisuals.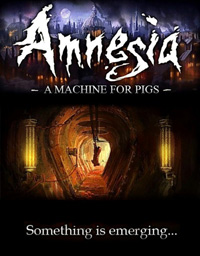 Amnesia: A Machine for Pigs | PC
Amnesia: A Machine for Pigs release date for PC:
game language:
English
10 September 2013 | Worldwide
10 September 2013 | Europe
10 September 2013 | USA
Game mode: single player
0 Game score 7.28 / 10 calculated out of 688 players' votes.
Expectations before the premiere: 9.4 / 10 calculated out of 643 players' votes.
Amnesia: A Machine for Pigs for PC / Windows is the second installment in the series that was originated by Frictional Games Studios, a team renown as experts in horror genre (owing to the success of Penumbra games series). This time, the developers took a role of a mentor, while the game itself was prepared by the team of The Chinese Room Studios, or the authors of Dear Esther and a few other intriguing mods for Half-Life series.
Amnesia: A Machine for Pigs is not a straight sequel of the first installment of Amnesia series, although it is set in the same universe. The game takes you back in time to 1899. You play as an entrepreneur named Oswald Mandus, who came back from a catastrophic expedition to Mexico. The protagonist fell ill with a mysterious ailment and was unconscious for several months. After waking up, he finds out that he remembers little. Meanwhile, there is not a living soul in his home, and a disturbing sound of a huge machine is coming from somewhere under the floor. So another dark adventure begins.
The Chinese Room Studios production makes use of many of the solutions used in Amnesia: The Dark Descent. Again it is a first-person horror adventure game that really is scary. While playing, you walk through various rooms, collect items, solve puzzles, and get to know plot twists (given as voice narratives or texts). What has changed is the atmosphere and the narrative style - the authors reduced the intensity of the gameplay elements making more space for exploration. Simple scarers was replaced by a deeply-rooted fear of the dark side of human soul.
Similar games:
Age Rating
age requirements: everyone
System requirements
Recommended: Core i5 2.6 GHz, 4 GB RAM, graphic card 1024 MB (GeForce GTX 460 or better), 5 GB HDD, Windows Vista/7/8