Bayonetta 2
Sequel to the dynamic fantasy slasher developed by Platinum Games studio led by Hideki Kamiya, the creator of the Devil May Cry series. In contrast to the original game that was released on every major seventh generation console, Bayonetta 2 is a WiiU exclusive. The game continues the story of a very attractive witch who has to fight the forces of good and defeat legions of enemies. The game features dynamic action and an interesting combat system. The protagonist is able to use various melee weapons and firearms. She is also able to use armaments left by fallen enemies. Being a witch, Bayonetta has a number special abilities at her disposal that allow her to summon demons and hell machines to do her dirty work. The sequel also features the characteristic elements of the first entry, including bullet-time, fancy bosses, and a large dose of humor.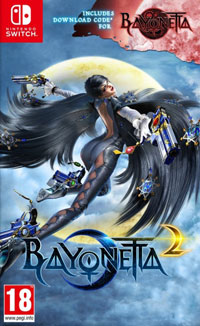 Bayonetta 2 | WiiU
Bayonetta 2 release date for WiiU:
game language:
English
20 September 2014 | Worldwide
24 October 2014 | Europe PAL
24 October 2014 | USA NTSC
Game mode: single player
0 Game score 8.8 / 10 calculated out of 482 players' votes.
Expectations before the premiere: 8.8 / 10 calculated out of 56 players' votes.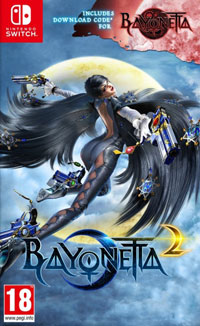 Bayonetta 2 | Switch
Bayonetta 2 release date for Switch:
game language:
English
16 February 2018 | Worldwide
16 February 2018 | Europe PAL
16 February 2018 | USA NTSC
Game mode: single player
Expectations: 8.6 / 10 calculated out of 7 players' votes.
Bayonetta 2 is the second entry in the series of dynamic and crazy shooters. This time it is a title released exclusively for Nintendo Wii U. The game was developed by Platinum Games, a Japan studio which created many acknowledged and interesting projects (such as MadWorld and Vanquish).
Story
Once more, the player takes control of a witch who this time must save the soul of her friend, Jeanne. The woman is in peril because, during one of the battles with a group of angels, she defended Bayonetta from a surprise attack with her own body and was sent to hell. Bayonetta does not intend to abandon her friend and she goes to the rescue.
Gameplay
The game uses similar mechanics as the first installment while greatly improving them. The player fights many various opponents by using the exceptional agility of the witch, various weapons (pistols, swords, bows etc.) and magic powers that allows for example demons to materialize from the hair of the witch.
The battle system is advanced and it allows performing complicated combos. The developers made sure for the game to have low entry threshold and every player can quickly learn the basic, impressive attacks. The gameplay also allows using special attacks, including the so called Torture Attacks. These attacks allow the player to trap the enemy and torture him with one of murderous devices. In addition to that, Bayonetta learned to control the Umbran Climax power which can be used after filling the magic bar. When used, the health of the heroine regenerates automatically, her attacks are much stronger than normally and she can use additional techniques called Wicked Weaves and Infernal Demon.
All of player's actions are graded by the game, encouraging him to return to previously completed levels and master the score. The game has also various secrets and bonuses that are waiting to be discovered.
Game modes
Bayonetta 2 also has an online cooperation mode in which players can fight for their survival or compete for best score on special arenas. By playing the singleplayer mode, one can unlock new fighters to be used in cooperation mode.
Technical aspects
The title is utilizing the power of Wii U and it has great graphics filled with fantastic locations and impressive special effects. It runs in 60 frames per second.
PEGI Rating