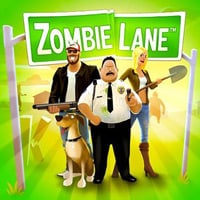 Zombie Lane | WWW
Zombie Lane release date for WWW:
game language:
English
01 April 2011 | Worldwide
01 April 2011 | Europe PAL
01 April 2011 | USA NTSC
Game mode: multiplayer , multiplayer mode: Internet
Take back control of your neighborhood from Zombies! Equip a weapon of your choice and fight off the endless waves of the undead! Smack them with a shovel or take them down quickly with a shotgun. Itís no fun getting outnumbered, so invite friends for more zombie action!
Complete quests and help the Rent-a-Cop restore peace to your neighborhood
Equip a variety of weapons including shotgun, shovel, and more
Gather material to craft super weapons
Get rewarded with achievements and items as you take down zombies
Customize your human from head-to-toe
Gift items and share coins with friends, hire them and visit their homestead
Age Rating
age requirements: everyone