DriveClub
An arcade racing game focused on multiplayer gameplay. DriveClub was developed by Evolution Studios, the creators of World Rally Championship and MotorStorm. The game allows the player to assume the role of a driver and join one of the rivaling racing clubs. The player must participate in races and complete missions for which he obtains fame. The fame decides about the reputation of the whole team in the car world. DriveClub features many carefully-recreated car models which can be additionally tuned. The game uses an arcade driving model, allowing a wide group of players to enjoy the game. DriveClub also has advanced social options which allow for interaction with other club members and friends.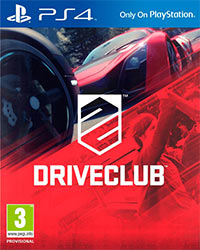 DriveClub | PS4
DriveClub release date for PS4:
game language:
English
07 October 2014 | Worldwide
08 October 2014 | Europe PAL
07 October 2014 | USA NTSC
Game mode: single / multiplayer , multiplayer mode: Internet
0 Game score 6.415 / 10 calculated out of 1185 players' votes.
Expectations before the premiere: 7.9 / 10 calculated out of 248 players' votes.
DriveClub for PlayStation 4 is a racing game developed by the genre veterans responsible for Motorstorm, Evolution Studios. However, unlike the titled mentioned above, this production lets the players get behind the wheel of real sports cars.
The title also shows a different approach to law enforcement and, above all, focuses on the cooperation of the players who organize themselves in eponymous clubs in order to work together for the reputation of the entire team, collecting fame points. These are awarded for both the high places achieved in tournaments as well as performing numerous secondary objectives.
The gameplay in DriveClub is purely arcade – driving model is straightforward and easy to master. In addition, because the game focuses on multiplayer mode, we gain access to a range of options that affect the social rivalry between the racing participants.
The developers put a huge emphasis on the graphic design. Cars are modeled down to the smallest detail, and applied shaders make all materials look very natural, both on the inside and on the outside of vehicles.
DriveClub for PlayStation 4 debuted on the market in two versions – the retail one and a free one for PlayStation Plus subscription holders, limited in terms of the number of available tracks, cars and gameplay options.
Similar games:
PEGI Rating