Naruto Online
A web-based MMO role-playing game based on the popular manga universe created by Masashi Kishimoto. Naruto Online was developed jointly by Chinese studio More Fun and the CyberConnect 2 team, also known from the majority of the stand-alone games in the franchise. The game takes place in the world, where elements of the medieval Japan are combined with modern technology, and you play as ninja warriors, who represent selected villages from this universe. Apart from the perfect training, specialist equipment, and unique combat techniques, they all share the ability of using the so-called chakra energy to use special attacks. The mechanics are typical for Asian MMORPG productions, allowing you to play on your own in the PvE mode, where you do a series of story quests, while the visuals are based on those of other Naruto games and comics.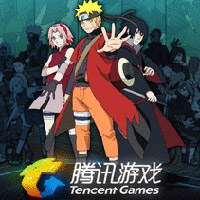 Naruto Online | WWW
Naruto Online release date for WWW:

game language:
English
20 July 2016 | Worldwide
Game mode: massive online multiplayer , multiplayer mode: Internet
0 Game score 6.35 / 10 calculated out of 65 players' votes.
Expectations before the premiere: 9.0 / 10 calculated out of 136 players' votes.
Naruto Online for WWW is a MMO role-playing game, set in the universe known from the popular Japanese manga series and its animated adaptations. The game was developed by Chinese studio More Fun, owned by Tencent Games, and Japanese studio CyberConnect 2, also known from several fighting games based on the Naruto universe.
Plot
The story takes place in a world, where certain features of medieval Japan are combined with modern technology. The country is ruled by samurai clans and feudal lords, but the cities are supplied with electricity, and in every house there is a TV set. Conflicts are solved mainly by hiring ninja mercenaries, recruited from one of several enormous, self-sufficient villages, each of them teaching a different combat philosophy. Apart from being excellently trained and having specialist equipment, those ninja can also use their life force (the so-called chakra) to overcome the limitations of the human body and use magic-like techniques.
Mechanics
Naruto Online is an MMORPG, so you start the game by creating you own ninja warrior. You can customize their appearance, choose their village of origin and their techniques. The next step is to go adventuring. The game features a complex combat system, which requires both good reflexes and tactical thinking. There's both a singleplayer PvE mode, in which you do story quests, and a multiplayer PvP mode, in which you fight with other players. Every success earns you experience points, which can be exchanged for new abilities for your hero.
Similar games:
Age Rating
age requirements: everyone