Spintires
Spin Tires
A realistic heavy vehicles off-road simulation game, developed by the British studio Oovee Games. Spintires lets the players try their skills as a professional driver, transporting cargo across Russian wilderness. Virtual truckers can sit behind the wheels of carefully designed models of several Soviet off-road vehicles and trucks (including the legendary MAZ-7310), as well as modern models. The job requires from the players much more than just spinning the wheel and putting pedal to the metal. Each course has to be carefully planned, e.g. as to the amount of fuel needed. Successful runs are rewarded with cash, needed for buying truck modifications or new vehicles. Spintires stands out with detailed graphics and advanced driving model based on Havok Physics.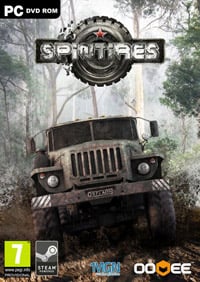 Spintires | PC
Spintires release date for PC:

game language:
English
13 June 2014 | Worldwide
Game mode: single / multiplayer , multiplayer mode: Internet, players: 1 - 4 , size: 1 DVD
0 Game score 8.505 / 10 calculated out of 1670 players' votes.
Expectations before the premiere: 9.5 / 10 calculated out of 452 players' votes.
Spintires for PC / Windows is an advanced truck driving simulator. As a professional driver, the player will explore the wilderness and forests of Russia. The goal is to deliver the goods from point A to point B, ensuring adequate supply of fuel, and cargo safety. The game was developed by an indeptendent British studio, Oovee Games, which created a few very successful add-on to such titles as RailWorks and Flight Simulator X.
The game starts in the late 80s of the 20th century in the Soviet Union. The player has an old truck and a set of simple navigation tools at his disposal. Plotting the way using landmarks, the players must remember that the goods must arrive at a satisfactory state. Skill points are awarded for the completion of the task which then can be used to buy range of improvements and enhancements to the truck, and, with time, even a better vehicle. Interesting radioactive enhancements, which are unavailable in shops, can be found in forest using a Geiger counter.
Spintires for PC / Windows is powered by an engine which was built from scratch, VeeEngine, utilizing the benefits of Havok Physics. As a result, the game has not only photorealistic graphics even on slower machines, but, above all, excellent physics which is second to no high-budget production. The developers also put a lot of effort into ensure very high level of realism. Any mistake or a laid-back behavior while driving may end cause a serious defect in the vehicle or damage the cargo, preventing the completion of the task.
It is a noteworthy fact that the game was recognized even during its development. It was awarded in two categories during prestigious Intel Level Up 2009.
PEGI Rating
System requirements
Recommended: Core 2 Duo 2.5 GHz, 2 GB RAM, graphic card 512 MB (GeForce 9600 GT or better), Windows Vista/7/8