Xenoblade Chronicles X
The second installment in a jRPG series launched in 2010 with the release of the well-received Xenoblade Chronicles. Both games were developed by Monolith Software. Xenoblade Chronicles X tells a completely different story, however, which begins in 2054. As a result of the war between two alien species, the Earth is almost completely destroyed, and humanity needs to find a new home. White Whale, an American spacecraft crashes into the surface of the planet Mira. The crew of the ship establishes a city and names it New Los Angeles. The player assumes the role of a survivor hired by an organization aiming to explore the unknown planet. The gameplay mechanics combine elements of the previous installment with ideas inspired by the Monster Hunter series. In the game, the player explores different regions of the planet, completing various assignments and fighting monsters inhabiting its surface in a real-time combat system.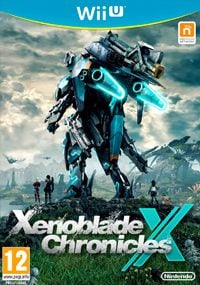 Xenoblade Chronicles X | WiiU
Xenoblade Chronicles X release date for WiiU:
game language:
English
29 April 2015 | Worldwide
04 December 2015 | Europe PAL
04 December 2015 | USA NTSC
Game mode: single player
0 Game score 9.2 / 10 calculated out of 233 players' votes.
Expectations before the premiere: 9.5 / 10 calculated out of 36 players' votes.
Xenoblade Chronicles X for Nintendo Wii U is a spectacular jRPG set in an original science-fiction universe. It was developed by Japanese studio Monolith Software and Nintendo company. The leader of development team was Tetsuya Takahashi. This legendary game developer worked with his studio Squaresoft on classic jRPGs such as Legend of Mana, Final Fantasy IV, Final Fantasy VI, Xenogears or Chrono Trigger. After founding Monolith Software in 1999 he created the Xenosaga trilogy, and later the award-winning Xenoblade Chornicles for Wii, which is the predecessor of Xenoblade Chornicles X.
Story
The story starts in 2054 when two mighty space fleets of hostile alien races fight a final battle on Earthís orbit. As a result, our planet is destroyed, and the remnants of human race are forced to build self-contained migration spacecrafts, and head off into space in search of a new home. One of the American ships - White Whale - is damaged by aliens and crashes down on a planet called Mira. Forced to settle down there, the crew builds New Los Angeles city, explores the brave new world, and searches for lost safe pods with remaining survivors. The main protagonist, who is one of the survivors, joins an organization whose goal is to explore Mira.
Gameplay
Gameplay in Xenoblade Chronicles X draws inspiration from the previous installments in the series released on Wii, as well as Monster Hunter. Players explore new areas, hunt for local beasts, and do various quests and missions. The game uses third-person perspective. The gamepadís screen serves as a map. As you play you can shift between team members. Real-time combat features standard attacks, special abilities, and usable items. You traverse Mira on foot, and later in the game also on transforming mechs, which can be upgraded and modified, as well as used in combat.
Technology
The gameís graphics were built on an in-house engine that uses the potential of Wii U to the full. The soundtrack was composed by Hiroyuki Sawano, well-known to fans of anime, as he created music for TV series such as Gundam Unicorn, Ao no Exorcist, Kill la Kill, Guilty Crown, and Attack on Titan.
Similar games:
PEGI Rating