The Last of Us: Left Behind
An official story expansion for 2013's The Last of Us, created by Naughty Dog. Left Behind is a prequel to the original game, and it focuses on Ellie and her best friend Riley attending a military school in the quarantined area. One day a series of dramatic events occurs, changing both of their lives forever. The premise becomes an excuse to depict the bonds growing between the two characters. The main story is mingled with a subplot which concerns tthe adventures of Ellie and Riley set within the story of the original game. The basic gameplay mechanics have not changed, but since we play as a teenage girl, the gameplay's focus on open combat is substantially reduced.
This is The Last of Us expansion pack.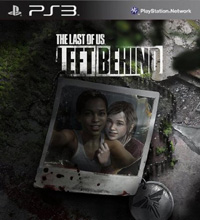 The Last of Us: Left Behind | PS3
The Last of Us: Left Behind release date for PS3:

game language:
English
14 February 2014 | Worldwide
Game mode: single / multiplayer , multiplayer mode: Internet
0 Game score 9.105 / 10 calculated out of 843 players' votes.
Expectations before the premiere: 8.9 / 10 calculated out of 117 players' votes.
Left Behind for PlayStation 3 is a large DLC expansion for The Last of Us, a well-received third person perspective game. They were both developed by Naughty Dog.
Story
The story of the expansion is set mainly before the events from the original game. Ellie is the main character here, Joel is replaced by Riley, who is the protagonist's best friend and her mentor (played by Yaani King). The action takes place in a military school attended by Ellie and Riley, which is in the quarantined area. One day, a series of tragic events take place there, which changes the lives of the girls forever. Again, depiction of the bonds growing between the characters is a major focus of the game.
Left Behind for PlayStation 3 features also an additional, minor plot. It is an excuse for presenting the adventures past adventures of the girls. We play as Ellie, but action shifts to the events of The Last of Us. After Joel gets wounded in a fight with bandits, the heroine goes to find a first aid kit in order to stitch him up. The players should not expect expansive dialogues in such sections of the scenario. Instead, we receive many stealth-action sequences and a bit of combat. Between these sections of the game, the scenario goes back to the past events involving Riley.
Gameplay
Since this is a story expansion containing only a set of new levels, the basic gameplay mechanics and the technicalities of the game were not changed. However, it has to be noted that Ellie is not a strong man but a teenage girl - the player has to expect a reduced focus on direct combat in this expansion.
PEGI Rating