Bear Simulator
Bear simulator, developed by one-man Farjay studio with the support of Kickstarter's users. We play as the eponymous bear and are tasked with surviving in unfriendly environment. We explore the game's open world and get food by catching fishes, stealing honey from beehives, and gathering tasty species of plants. We also make use of our strong paws and claws to clear our way and fight with other animals. Resting in our cave will be necessary to replenish our lost energy. There is also a character development system, with our bear protagonist gaining more strength, vitality, luck, intelligence and other skills which will make surviving easier. The game employs first-person perspective, and its visuals – while rather unimposing – offer a variety of landscapes and include a day and night cycle as well as dynamic weather.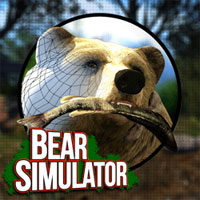 Bear Simulator | PC
Bear Simulator release date for PC:
game language:
English
26 February 2016 | Worldwide
26 February 2016 | Europe
26 February 2016 | USA
Game mode: single / multiplayer
0 Game score 7.8 / 10 calculated out of 106 players' votes.
Expectations before the premiere: 8.0 / 10 calculated out of 115 players' votes.
Bear Simulator for PC / Windows is a simulation game that differs greatly from other productions of this genre. As the title suggests, this production allows us to play as a bear living in the vast wilderness. Bear simulator has been created by Farjay, a one-man studio, having raised the funds for development through a Kickstarter campaign.
Gameplay
As a bear, we explore the game's world and maintain our stamina by catching and eating fish, stealing honey from the bees, or consuming tasty plants. The wilds are inhabited by other animals as well, some of which might get in our way. We fight with them using the strength of bear's paws, which are also useful for destroying objects blocking our passage. The energy we may have lost during the day is restored during the night by sleeping in our cave. We observe game's world through first-person perspective, jokingly dubbed by the creator as FPB (First-Bear Perspective)
The stats of our bear have a great impact on the gameplay. The animal is described through such characteristics as strength, intelligence, vitality, swimming, or luck. In time they well reach new levels, resulting in the bear becoming stronger, faster etc.
Technology
The game employs three dimensional visuals. From a technical point of view, Bear Simulator for PC / Windows is far from astounding, but the developer made sure to offer diversified environments (snowy mountains, meadows and others), day-night cycle, and even changing weather.
Similar games:
Age Rating
age requirements: everyone
System requirements
Recommended: Intel Core 2 Duo 2.4 GHz, 4 GB RAM, graphic card 512 MB GeForce 9800 GT/Radeon HD 4850 or better, 4 GB HDD, Windows 8
Minimum: Intel Core 2 Quad 1.8 GHz, 2 GB RAM, graphic card 256 MB GeForce 7900 GT/Radeon X1900 or better, 4 GB HDD, Windows 7