Act of Aggression
A real-time strategy and a spiritual successor to Act of War, a game released in 2005. The game was created by a French developer Eugen Systems, also known for titles like R.U.S.E. and the Wargame franchise. The story is set in the near future, where the player commands a special, top secret task force created by the UN in order to quietly deal with potential threats to the world peace. The gameplay mechanics feature typical RTS premises: before invading an enemy territory you have to expand your base and recruit an army, while keeping a steady flow of resources. Since the game is set in the future, it features lots of futuristic military equipment, including ground and aerial vehicles. Apart from the extensive single player campaign, the game features multiplayer options as well.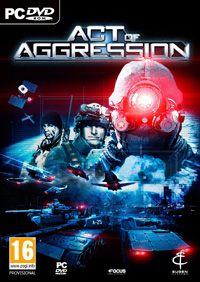 Act of Aggression | PC
Act of Aggression release date for PC:
game language:
English
02 September 2015 | Worldwide
02 September 2015 | Europe
02 September 2015 | USA
Game mode: single / multiplayer , multiplayer mode: Internet, players: 1-8
0 Game score 6.4 / 10 calculated out of 108 players' votes.
Expectations before the premiere: 9.6 / 10 calculated out of 116 players' votes.
Act of Aggression released on PC / Windows is a strategy game by French Eugen Systems known for such productions as R.U.S.E. and the Wargame series. The title serves as a spiritual successor of other RTS by the same studio – Act of War. Similarly to that production, Act of Aggression is a classic real-time strategy set in the not-too-distant future.
Plot
Act of Aggression is kept in a political thriller style. The action starts in 2025 in a world entangled in an economic crisis. In such circumstances, The Cartel – a criminal organisation with unknown objectives – arises. This fraction has the newest technologies, stolen weapon prototypes, and agents working behind the scenes. On the other side of the barricade, there is a secret military organisation Chimera, which was established by United Nations in order to nip armed, open conflicts in the bud. Chimera is supported by the US army, which is weakened by two decades of constant wars. However, it has many battle veterans in its ranks.
Gameplay
Gameplay is based on classic RTS genre rules. Before an attack, you have to build a base, gather resources, and generate an army. There are three natural resources, including oil, which immediately transforms itself into money. You need it to build infrastructure, create units, and upgrade the technology, including building superweapons, like nuclear ballistic missiles. It is vital to protect your supply lines, as extracted resources have to be transported to the base before they can be used. Moreover, it is beneficial to take over banks and catch hostages – this really increases the budget.
Buildings can be placed in particular places around the main base, but there is no limit on the number of constructions within one base. The player can have a few bases at the same time so as to extract as much resources as possible or to gather bigger armies. Act of Aggression offers 70 military units types of different uses – starting with infantry, through a variety of vehicles, ending with choppers and fighters. Having enough resources, they can be attributed with additional specialisations – e.g. anti-aircraft, anti-tank, anti-infantry – and special abilities. The topography plays an important role in tactics. Soldiers can hide behind a hill or in a building, but you need to keep in mind that every building is destructible. You fight both during the day and night. Some campaign missions focus only on action – there is no base management, which is known from e.g. the Command & Conquer series.
Game modes
Naturally, such a game should feature multiplayer and it does - it is for up to 8 users. Act of Aggression for PC / Windows offers team matches in various configurations.
PEGI Rating
System requirements
Recommended: Intel Core i5-3570 3.4 GHz/AMD FX-6300 3.5 GHz, 4 GB RAM, graphic card 2 GB GeForce GTX 660/Radeon HD 7870 or better, Windows 7/8 64-bit
Minimum: Dual Core 2.5 GHz, 2 GB RAM, graphic card 512 MB GeForce 9800 GT/ Radeon HD 4870 or better, Windows 7/8 64-bit