Ratchet & Clank
The next installment in the very popular 3D platformer series, which has been initially developed for the PlayStation 2 console, and had given birth to one of the most popular and successful series for this particular gaming platform. Despite drawing major inspiration from its 2002 predecessor, the title is not just a simple remake but a complete reboot of the whole cycle. In the new game, we follow the struggles of the titular pair of heroes – a fox called Ratchet and his robot companion, Clank, as the two of the try to save the galaxy from the evil Drek. Our antagonist is actively trying to destroy the world and reuse the entirety of its matter to form a new planet for his race – the Blarg. The main characters are searching for the legendary superhero Captain Qwark, who is the only person believed to be able to stand up to the terrible foe. Ratchet & Clank is a standard 3D TPP platformer in which the gameplay revolves around traversing the world, fighting various enemies and collecting numerous mysterious findings.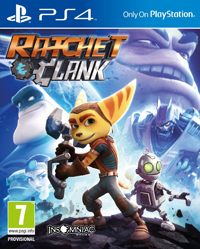 Ratchet & Clank | PS4
Ratchet & Clank release date for PS4:

game language:
English
12 April 2016 | Worldwide
20 April 2016 | Europe PAL
Game mode: single player
0 Game score 8.685 / 10 calculated out of 529 players' votes.
Expectations before the premiere: 9.1 / 10 calculated out of 163 players' votes.
It has been nearly thirteen years since the release of the renowned platform game developed for the PlayStation 2 - Ratchet & Clank. The original developer of the classic, the Insomniac Games studio, is now responsible for the game's reboot and its first port to a different gaming platform - the PlayStation 4. Ratchet & Clank for PlayStation 4 is rebuilt from scratch when it comes to the technological aspects; however, the characteristic storyline and mechanics we came to know from the predecessors were remain mostly unchanged.
The players take part in the adventures of the foxlike Ratchet and his robot companion, Clank. We are able to experience their first encounter, which led to the creation of the inseparable duo and started the series of a number of Ratchet & Clank games. Our heroes are on a search for Capitan Qwark, a superhero, who is supposedly the last hope of the galaxy, and the only person who can stand against the evil Drek, whose main ambition is to destroy the universe and create a new world for his race - the Blarg - from its matter.
When it comes to the gameplay itself, it is primarily focused around fighting enemies, maneuvering platforms and collecting various findings (e.g. bolts); as previously mentioned, the PlayStation 4 remake offers several innovations in the fields of game mechanics and technology.
PEGI Rating