Tearaway Unfolded
An enhanced edition of the 3D platform game by Media Molecule, originally released in 2013 for PlayStation Vita. Tearaway Unfolded is set in a magical world made entirely of paper. The game's protagonist is a cute girl with a headdress — a courier, who has to deliver an important message, and your task is to help her. You travel through dangerous locations and not only control the girl, but also influence the surroundings in various way. Many of these actions have been developed with PlayStation 4 pad in mind, like those involving the use of the touchscreen and the gyroscope. The visuals resemble the LittleBigPlanet series, the iconic production by Media Molecule.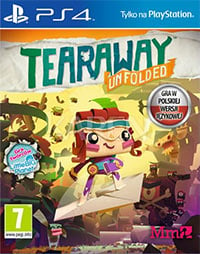 Tearaway Unfolded | PS4
Tearaway Unfolded release date for PS4:
game language:
English
08 September 2015 | Worldwide
09 September 2015 | Europe PAL
08 September 2015 | USA NTSC
Game mode: single player
0 Game score 8.0 / 10 calculated out of 105 players' votes.
Expectations before the premiere: 7.9 / 10 calculated out of 15 players' votes.
Tearaway Unfolded for PlayStation 4 is new version of the 3D platform game Tearaway by Media molecule, released in 2013 for PS Vita. The game includes new elements, concerning the controls and the interface. The locations have been expanded and the visuals have been upgraded to support high resolutions.
Plot
The game takes place in a magical world made entirely of paper and cardboard. The protagonist is a small girl resembling a Native American, who's a courier with an important message to deliver. Your task is to help her get through the many locations, which are teeming with danger.
Mechanics
You not only control the protagonist, but also make her journey easier by influencing the surroundings in many ways. By using the pad's touchscreen, you make big drums vibrate, which allows the courier to jump higher. In other places, you can literally tear the paper ground apart, saving the courier from monsters. You can also move around various objects, such as platforms and boxes, and make the wind blow harder to open previously unavailable passages. The gyroscope allows you to direct rays of light at elements of the setting (e.g. to make plants grow) and to catch the objects thrown at the screen.
Technical aspects
The visuals and music of Tearaway Unfolded resemble the distinct style of the LittleBigPlanet series, which has become the trademark of Media Molecule. The locations are very detailed, and thanks to many tricks and the physics engine they really look like cut with scissors by an artist.
PEGI Rating