Star Trek: Alien Domain
Another browser MMO game adaptation of the cult Star Trek TV series universe. The title was based on the newest canon of the series, although it features a completely new story. The plot takes place in a mysterious region of the universe called Fluidic Space, where the members of United Federation of Planets and the Klingon Empire again fight for influence. The players choose one of the factions and establish colonies, gather resources, develop their fleets, and conduct research. Like a proper MMO game, Star Trek: Alien Domain features much combat between the players, including one-on-one skirmishes, raids on the enemy outposts, and great battles between the rivaling factions. In the game you may see many iconic ships from the series and movies, but you also have an option to build your own vessels.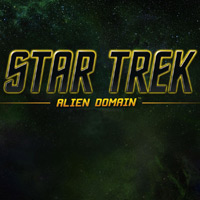 Star Trek: Alien Domain | WWW
Star Trek: Alien Domain release date for WWW:
game language:
English
TBA | Worldwide
11 June 2015 | Open Beta
Play now on: http://startrek.gamesamba.com/
Game mode: massive online multiplayer
0 Expectations: 8.8 / 10 calculated out of 7 players' votes.
Star Trek: Alien Domain is the next attempt at transferring the popular Star Trek universe into the window of an internet browser, after the unfinished Infinite Space. This time we are dealing with a strategical MMO production from the NGames studio, which specializes in small mobile, social and browser titles, such as Pockie Ninja II Social.
Alien Domain has been developed based on the newest canon of the Star Trek universe and creates a brand new story around it. The action of the title takes place in the mysterious region of the universe known as Fluidic Space. This remote location is the main theater of operations for representatives from the human United Federation of Planets and the Klingon Empire, who constantly battle for influence.
The players, representing both factions, have to establish colonies, expand their fleets, research new technologies and gather resources. There are also plenty of skirmishes between users, ranging from small duels, through epic raids on the bridgeheads established by our rivals, to grand battles waged by guilds of opposing factions. The developers have prepared a wide range of ships, including the most popular vessels, featured in the movies and TV cycles; we also have the possibility of single-handedly creating our own spaceship.
Similarly to other browser productions, Alien Domain features a 2D graphic style; we experience the action and gameplay of the title from an isometric perspective.