Elvenar
A browser MMO strategy game from the creators of Tribal Wars. In Elvenar the player joins one of two sides of conflict: humans or elves, and strives to build a prospering metropolis. Each of the two races uses different technologies and offers unique architecture, units, and a bit different gameplay philosophy. For example, elves live in harmony with nature, practice magic and coexist with other fantasy creatures, whereas humans are more of ambitious engineers, who use medieval weapons and technology. The foundation of gameplay is to provide your settlement with wealth and security as well as transform it into a big metropolis. To this end you have to produce food and collect resources, expand buildings, and recruit a strong army that would fight your battles and allow you to explore new territories. In Elvenar you can focus on story-based campaign missions or interact with other players: establish alliances, trade or wage wars with them. Battles are fought in a turn-based system on hexagonal fields. Elvenar stands out from similar games with impressive 3D visuals and high-quality graphics.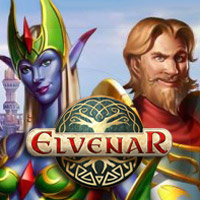 Elvenar | WWW
Elvenar release date for WWW:

game language:
English
08 April 2015 | Worldwide
25 August 2015 | Europe PAL
Game mode: massive online multiplayer , multiplayer mode: Internet
0 Game score 6.7 / 10 calculated out of 76 players' votes.
Expectations before the premiere: 8.2 / 10 calculated out of 8 players' votes.
Age Rating
age requirements: everyone