God of War
Another major entry in the famous hack-and-slash action game series that is one of the most important franchises available exclusively on subsequent generations of the PlayStation consoles. In previous parts of the series, we have been following a story of Spartan warrior named Kratos, and the gameplay concentrated mainly on spectacular and incredibly bloody action and eye-catching fighting system. The new God of War, developed by one of the Sony Computer Entertainment's subsidiaries, is a reboot of the series and the first installment created with PlayStation 4 in mind, resulting in a completely new, intriguing storyline as well as improved graphics and sound that make full use of the power of eighth generation consoles.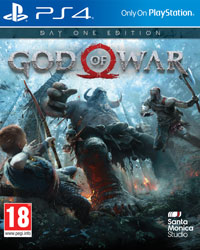 God of War | PS4
God of War release date for PS4:

game language:
English
20 April 2018 | Worldwide
Game mode: single player
0 Expectations: 9.3 / 10 calculated out of 954 players' votes.
God of War for PlayStation 4 is another installment of the legendary slasher series God of War. This installment was developed with PlayStation 4 console in mind. Similarly as the previous installments, the title was developed by Santa Monica studio, a first-party developer of Sony Computer Entertainment. God of War series was born in 2005 on PlayStation 2 and since then it had five more installments which were released on PlayStation 3, PSP and PS Vita. All titles were focused on very effective and blood-filled action and impressive fights with powerful enemies. The main protagonist of the series, a Greek warrior Kratos, quickly became one of the icons of the videogame industry.
Plot
The main protagonist of God of War is once again Kratos. After the Greek adventures which were filled with anger and madness and which ended with destruction of Olympus and death of many Greek gods and heroes, the protagonist escapes to far north where he is looking for peace and rest. There he creates new family and once again learns the hardships of fatherhood which force him to abandon the old way of life. Sadly, due to various events he must return to the old path which this time will be filled with bodies of creatures and gods of Nordic legends.
Mechanics
God of War for PlayStation 4 introduces new gameplay elements to the series and changes the previously present ones. The camera is changed and now, similarly as in other modern action-adventure games, it shows the action from behind the back of Kratos. The narration and tone of the story are changed as well.
Technical aspects
The creators of God of War for PlayStation 4 used the power of the console to create spectacular action and graphics that were impossible to achieve in previous installments of the series. Once again the game contains very innovative and impressive cutscenes and boss fights that consist of many phases. The soundtrack of the game was created by American composer Bear McCreary whose tracks one could hear in many awarded TV series such as Battlestar Galactica, Eureka, Marvelís Agents of S.H.I.E.L.D, The Walking Dead, Defiance and Outlander.