The Exiled
Das Tal
A sandbox MMORPG set in a dark fantasy world, focusing on PvP mode and interactions between players. We play as a person imprisoned in vast valley, where they must build a shelter, find allies and finally escape. This cannot be achieved without other players, but we also compete with them for resources crucial for survival and achieving our main objective. The Exiled gives us total freedom in developing the abilities of our character, though offensive skills are strictly bound to the weapon and equipment we wield. The battle system promotes good aim, timing and tactical sense. Instead of complex plot and side quests, the players are driven by constant competition with each other and need to protect their resources. On the other hand, working together brings more benefits than rivalry. Each server ends the game after some time and announces its winners.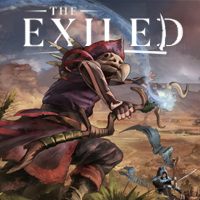 The Exiled | PC
The Exiled release date for PC:
game language:
English
2018 | Worldwide
Game mode: massive online multiplayer , multiplayer mode: Internet
0 Expectations: 9.1 / 10 calculated out of 5 players' votes.
The Exiled is a sandbox MMORPG game for PC / Windows that focuses on PvP and interaction between players. It is a debut of independent German team from Fairytale Distillery studio.
Plot
The Exiled is set in dark fantasy world, with player controlling a prisoner incarcerated in a vast valley. He must build his own shelter, regain his strength, gain allies and resources and finally escape. But there are many people wanting to break free, so they must either join forces or compete for resources that are required to achieve that objective.
Game mechanics
The creators of The Exiled for PC / Windows gave up on classic character development system of RPGs, meaning players are given complete freedom at raising their characters' skills. Player's offensive prowess is bound to a weapon and equipment they use and which can be made in the crafting system. This means the players can change their tactic at any moment, not being confined to their character's skills.
There isn't any complex plot in the game, neither are there cutscenes, quests or other fillers. The Exiled focuses on PvP and constant rivalry over resources, which replaces grinding from other MMORPG titles. Fights promote a steady aim, timing and tactical sense, and they also include friendly fire. However, competing with others doesn't have to be a daily necessity, and players have to think their actions through. Not every player will become a rival, and sometimes it is more beneficial to become friends and cooperate. Additionally, developers implemented system of rewards that promotes veterans who helped new players get into the game.
Technical aspects
Each server of The Exiled is set in slightly different world, with various terrains and environments that evolve without players' intervention. The players are also able to apply their own rules for each game (such as prohibited ranged weapons). Interestingly, every server has a time limit and is concluded with an Ending Event, after which the winners and losers are announced. Then the game starts all over again.