Mario & Luigi: Paper Jam
A unique arcade game with RPG features, created by Nintendo by combining two, so far, separate franchises: Mario & Luigi and Paper Mario. The gameplay concentrates on exploration and completing various missions, while solving puzzles and fighting enemies. In Mario & Luigi: Paper Jam, players can take control of several different characters (including Mario, Luigi, and Paper Mario among others) and use their unique skills to overcome various obstacles. Different tasks can be tackled using two different styles: rhythmical or action oriented, and the basic gameplay is diversified by the addition of arcade mini-games.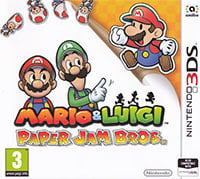 Mario & Luigi: Paper Jam | 3DS
Mario & Luigi: Paper Jam release date for 3DS:
game language:
English
03 December 2015 | Worldwide
04 December 2015 | Europe PAL
22 January 2016 | USA NTSC
Game mode: single player
0 Expectations: 9.1 / 10 calculated out of 8 players' votes.
Mario & Luigi: Paper Jam is an unusual action game with RPG elements. This Nintendo product combines two franchises – Mario & Luigi and Paper Mario. This means that the title features elements of the two series, and both character forms (3D model and paper/folded) are used in gameplay. Using their unique features, you have to overcome in-game obstacles and fights, which can take one of the two forms: rhythm-focused or action-based.
Gameplay
Gameplay has you explore the game's world and complete various missions, such as collecting a set number of mushrooms. Players control several characters at the same time (Mario, Luigi, paper Mario), associated with individual console buttons. The game presents you with many opportunities to use the characters' unique abilities – e.g. when escaping a huge, fireball-spewing plant, you can transform paper Mario into a kite and take the other characters into the air. Gameplay is further enriched with various mini-games.
Technology
Mario & Luigi: Paper Jam features the fans' beloved, distinctive Nintendo-style visuals and cartoonish artwork. Do not let it fool you though, this game is not as easy as it may seem.
PEGI Rating