Stellaris
A real-time space strategy with RPG elements developed by Paradox Interactive – the creators of such renowned series as Europa Universalis or Crusader Kings. The game is played in a procedurally generated interstellar space, where your job is to build a galactic empire. A the beginning of the game you choose one of the 7 playable races that differ in appearance, skills, and ethics. The game focuses on exploration and expansion, giving you the choice to subdue other species by force or ally with them, using an advanced diplomacy system. Either way, the nations unwilling to engage in peace talks will have to be persuaded on the battlefield, where battle-hardened fleets serve as your envoys. The title offers three independent technological trees, allowing you to focus on developing your civilization's society, engineering, or physics, depending on your preferences.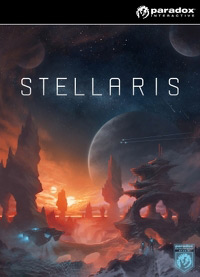 Stellaris | PC
Stellaris release date for PC:
game language:
English
09 May 2016 | Worldwide
09 May 2016 | Europe
09 May 2016 | USA
Game mode: single / multiplayer , multiplayer mode: Internet, players: 1-32
0 Game score 8.635 / 10 calculated out of 547 players' votes.
Expectations before the premiere: 9.4 / 10 calculated out of 166 players' votes.
Stellaris is a real-time space strategy that was developed by Paradox Development Studio, the creators of the Europa Universalis series and the well-received Crusader Kings series. Stellaris allows players to freely explore the vast space filled with unique planets where all the star systems are procedurally created. The advantage of this solution is undoubtedly the huge diversity of the implemented world and the fact that each new expedition aimed at finding something new can bring unexpected results.
The game allows the players to create their own intergalactic empire. We can choose from seven playable races, which differ in terms of ethics, appearance and unique skills. The development of our "kingdom" relies on one of the three major technological trends: society, engineering or physics. Our choice will define the direction in which our scientists will go. In the course of the game we also have the opportunity to form alliances with other political entities and use an advanced system of diplomacy, as well as initiate wars against foreign communities. There is no shortage of options allowing for creation of our own spacecrafts with unique traits and appearances that we can define ourselves.
In Stellaris players encounter various types of civilizations – friendly or eager to fight, mature and already decaying, or very young, like ours. The game features thousands of celestial bodies, and therefore the possibilities of expansion and development are enormous. The production is complemented by atmospheric and detailed visuals, thanks to which the interstellar travel makes quite an impression.
PEGI Rating
System requirements
Recommended: Intel Core 2 Duo 2.4 GHz, 2 GB RAM, graphic card 1 GB GeForce GTX 460 / Radeon HD 6600 or better, 4 GB HDD, Windows Vista/7/8
Minimum: Intel Pentium 4 2.4 GHz / AMD Athlon 64 3500+, 2 GB RAM, graphic card 512 MB GeForce 8800 / Radeon X1900 or better, 4 GB HDD, Windows XP/Vista/7/8