Shadowhand
A puzzle-adventure game by Grey Alien Games, creators of many browser and puzzle games, which combine visual novel mechanics with CCG elements. It's set in 18th century England, with players acting as a young aristocrat, one Lady Cornelia Darkmoor, who in her spare time transforms into a masked robber, the titular Shadowhand. The game is a narrative adventure game, so we move between locations and learn the story of the heroine. However, there are card game features as well, in the form of different variants of solitaire. This results in around 200 duels, which will let us collect many useful items and weapons. Shadowhand uses static, but pleasant visuals, somewhat resembling the casual titles from the hidden object genre.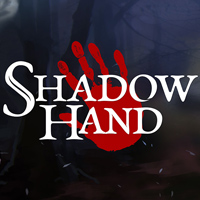 Shadowhand | PC
Shadowhand release date for PC:

game language:
English
07 December 2017 | Worldwide
Shadowhand is an unusual logic-adventure game that combines visual novel with elements of a collectible card game. It was developed by Grey Alien Games, known mostly for logic productions (for example: Regency Solitaire) and simple browser titles.
Story
The story takes place in the 18th century England. During the game, we follow the adventures of Lady Darkmoor, a young aristocrat who transforms into famous masked robber known as ShadowHand.
Mechanics
As far as mechanics are concerned, Shadowhand is partly a narrative adventure game, where we traverse various locations and take part in the protagonistsí crusade against corruption and impure intrigue according to the principle "money or your lifeĒ. In 20 chapters, we visit stormy coast, mysterious forest and a number of grim mansions. The story presented in Shadowhand is combined with CCG elements in an original way, which gives the game logic and even strategy character. There are over 180 card duels to fight against the computer AI, presented in a form of unique variation of classic solitaire. Subsequent turn-based battles will earn us experience points that let us develop the abilities of the protagonist as well as acquire valuable items and weapons.
Technical matters
Just like most visual novel productions, Shadowhand is also built with static graphics that illustrate subsequent adventures of the characters. The whole looks very nicely, though, bringing the popular, casual HOPA games (for example those developed by the Polish Artifex Mundi) to mind with its style.
Similar games:
Age Rating
age requirements: everyone
System requirements
Minimum: Intel Core 2 Duo 2.0 GHz, 4 GB RAM, graphic card 512 MB GeForce 8800 or better, 325 MB HDD, Windows 7