Dragon Knight
A web browser MMORPG based on the free-to-play business model. In the game developed by the Turkish Sala Game, a player gets to explore a diversified and colorful fantasy world with multiple locations. Particular lands are densely filled with numerous activities allowing players to familiarize themselves with the universe as well as continue with the story and gain the experience necessary to develop their characters and their abilities. The developers decided to implement peculiar mechanics into their game - apart from the free exploration and completing quests, a player can enjoy additional modes featuring e.g. The Crypt (eliminating consecutive enemy waves), Treasure Hunt (digging up precious items), Hero Trial (fighting a powerful boss), and Arena (PvP battles). In battles, a player can count on the companions he recruits on his journey. Combat itself is turn-based allowing a player to mount melee attacks, shoot firearms, as well as cast both offensive and defensive spells. The game allows one to establish guilds and even get married in the virtual world, which unlocks useful bonuses.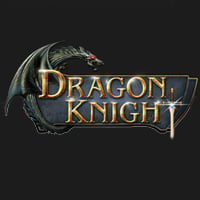 Dragon Knight | WWW
Companies responsible for Dragon Knight
Sala Game | game developer
Dragon Knight release date for WWW:
game language:
English
15 January 2015 | Worldwide
15 January 2015 | Europe PAL
Game mode: massive online multiplayer , multiplayer mode: Internet
Dragon Knight is a web browser MMORPG based on the free-to-play business model. The optional microtransactions allow players to purchase the in-game Diamonds for real money (allowing one to obtain nearly every item available in the game) and acquire the VIP status (making the adventure smoother in every way). The paid improvements have been well-balanced so that players, who do not want to spend real money, could enjoy the game as well. The game has been developed by a Turkish studio called Sala Game and in terms of its formula is somewhat similar to games such as Bleach Online and Ultimate Naruto.
Plot
On his journey, a player traverses a fantasy world filled with fairies, dangerous monsters, mystical warriors, and other magical creatures. Initially, one is tasked with rescuing a princess in distress, however, as the story progresses one gets involved in more activities, which affect his character's stats and the story itself.
The developers have filled the in-game world with picturesque and diverse locations, including forest ruins, grand castles, colorful cities beaming with life, and locations floating in mid-air. A player can visit all of these places and is bound to encounter multiple quests to complete, enemies to defeat, and other players, who can become his companions.
Mechanics
In Dragon Knight for WWW, a player begins his adventure from selecting one of the two available character classes. The game then allows one to familiarize himself with the system of gaining experience points, inventory management, and combat mechanics during a short introduction level lasting no more than two hours and ending when the character reaches level 30. Then, a player can develop his character by completing quests assigned by NPCs – these quests revolve mainly around eliminating particular enemies. Combat is turn-based and allows one to utilize all the abilities he acquired on his adventures as well as cast spells and mount both melee and ranged attacks. For each victory, a player is rewarded with experience points, gold, new items, and prestige points.
As one progresses in the game, it offers increasingly difficult challenges, thus a player has to consider recruiting companions, who can aid him in combat and level up together with his character. A player can obtain experience points in numerous game modes, such as The Crypt (eliminating consecutive enemy waves), Treasure Hunt (digging up precious items), Hero Trial (fighting a powerful boss), and Arena (PvP battles). The game features also an autopilot mode (the so-called "AFK mode"), in which a player can order his character to traverse the in-game world and look for the next quests to complete even though a player does not control the character the whole time.
Leveling up and unlocking all the related bonuses (not to mention increasing the character's stats) might serve for improving one's equipment and mount. Additionally, as one progresses through the game, he can purchase better pieces of gear. Players, who reach higher levels can – as befits a true MMORPG – form powerful guilds in order to face more demanding challenges. The game also allows one to marry someone in the virtual world, which unlocks certain additional bonuses.
Age Rating
age requirements: everyone