Gran Turismo Sport
A spin-off to a popular racing game series developed for Sony's consoles and the first one in the franchise that was tailor-made for PlayStation 4. Developed by Polyphony Digital in cooperation with the FIA organization, Gran Turismo Sport focuses on the titular motor sports, having the player compete for the most prestigious cups and titles just like real race drivers do. The gameplay mechanics corresponds with previous games in the series, letting you climb up the ladder of a professional driving career and drive a whole range of licensed sport cars, dedicated racing or concept cars. The competition has a different form here, as individual players represent their home countries or favorite car manufacturers. The game features more realistic driving model, as well as noticeably better graphics. It also supports the PlayStation VR headset.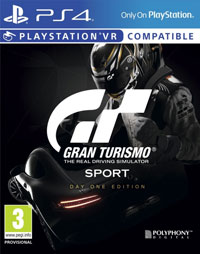 Gran Turismo Sport | PS4
Gran Turismo Sport release date for PS4:

game language:
English
17 October 2017 | Worldwide
18 October 2017 | Europe PAL
Game mode: single / multiplayer , multiplayer mode: Internet / split screen
0 Game score 6.98 / 10 calculated out of 192 players' votes.
Expectations before the premiere: 4.8 / 10 calculated out of 618 players' votes.
Gran Turismo Sport is the first Gran Turismo game to be a PlayStation 4 exclusive. Although it's release takes place more than two years after Gran Turismo 6, the game is not considered to be the seventh installment in the main series. Nevertheless, it offers more than just a small taste of the next big game, as it was in the case of Gran Turismo 5 Prologue. Just as all the previous games in the franchise, Gran Turismo Sport too was developed by Japanese studio Polyphony Digital, a Sony Computer Entertainment subsidiary.
Gameplay
The overall gameplay mechanics in Gran Turismo Sport are the same as before. You climb up the ladder of a professional driver career, taking part in more and more prestigious races and driving more powerful cars. There are many vehicles to choose from, including sport cars, dedicated racing or concept cars. You can take them for a spin on many existing racing tracks from all over the world.
Gran Turismo Sport puts even more emphasis on motor sports through the competitive multiplayer. Polyphony Digital started a partnership with FIA organization (Federation Internationale de l'Automobile) to let players compete for prestigious titles and cups, just as real race drivers do. The competition has two layers – players can either represent their own country or selected car manufacturers.
Together with the authentic competitive experience comes an enhanced, realistic driving model. However, the developer took special care to make Gran Turismo Sport as accessible to players as the previous installments.
Technology
Since this is a PlayStation 4 game, Gran Turismo Sport offers much better visuals than the previous games. It is also noteworthy that the title supports PlayStation VR headset.
Similar games:
PEGI Rating