Galactic Civilizations III: Mercenaries
The official expansion to 2015's Galactic Civilization III, the third entry in the turn-based 4X strategy game series from Stardock studio. Mercenaries continues the story of a great galactic war between humans and the merciless Drengin Empire. When, due to the prolonged conflict military, the resources of both factions begin to dwindle, they decide to bolster their ranks by hiring freelancers. During the campaign, we play as the Torian, a previously unavailable alien faction that lives underwater and is trying trying to drive back the Empire from their territory. In the sandbox mode we can also take the control of another new race – Arcean, an ancient civilization of honorable warriors. Other noteworthy novelties include many new types of ships and additional parts to already present units, as well as the so called Galactic Bazaar, where dozens of mercenaries with various skills offer their services.
This is Galactic Civilizations III expansion pack.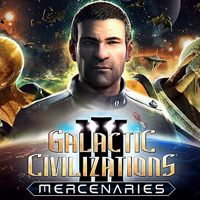 Galactic Civilizations III: Mercenaries | PC
Galactic Civilizations III: Mercenaries release date for PC:
game language:
English
18 February 2016 | Worldwide
18 February 2016 | Europe
18 February 2016 | USA
Game mode: single / multiplayer , multiplayer mode: Internet
PEGI Rating
System requirements
Recommended: Intel Core i5 3.0 GHz, 6 GB RAM, graphic card 1 GB GeForce GTX 560 or better, 15 GB HDD, Windows 7/8/8.1 64-bit
Minimum: Intel Core 2 Duo 1.8 GHz/AMD Phenom X4 1.8 GHz, 4 GB RAM, graphic card 512 MB Intel HD 4000 or better, 12 GB HDD, Windows 7/8/8.1 64-bit