Mirage: Arcane Warfare
The second major production by Torn Banner studio from Canada – the creators of the warmly received hack-n-slash multiplayer game, Chivalry: Medieval Warfare. Mirage: Arcane Warfare utilizes many elements of the previous installment in the series. The gameplay mainly revolves around close combat battles with the use of a wide arsenal of melee weapons. What differentiates the two games is the fact that Mirage: Arcane Warfare is set in a fantasy world, thus offering, apart from traditional methods of fighting, a broad range of magic powers as well. The game utilizes high-quality visuals powered by Epic Games' Unreal Engine 4 technology.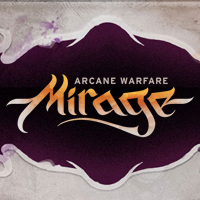 Mirage: Arcane Warfare | PC
Mirage: Arcane Warfare release date for PC:

game language:
English
23 May 2017 | Worldwide
Game mode: single / multiplayer , multiplayer mode: Internet
0 Expectations: 7.3 / 10 calculated out of 9 players' votes.
Mirage: Arcane Warfare for PC / Windows is the second full game developed by the Canadian studio Torn Banner, creators of the 2012 multiplayer war game Chivalry: Medieval Warfare. Works on Mirage began in Spring 2014, but the game was officially announced in 2016.
The Plot
Mirage: Arcane Warfare for PC / Windows takes place in a fictional world inspired by the Persian and Arab cultures where two factions fight for magic, for who should use it, and for on what, and how, should it be used. One of the factions is Bashrahi Emirate, an elite that represents their culture and who managed to harness the magic of Jinn and use it as a source of power and industrial development. The other faction, Azar Cabal, are outcasts who live in the desert. They think that magic should not be used for such a petty goals as industrial development because magic has a spiritual character.
Mechanics
Just like in the studio's previous game, we observe the action in Mirage: Arcane Warfare for PC / Windows from a first-person perspective. Gameplay focuses on short distance combat where we use cold steel weapons. We can also use various magical powers when we fight. Mirage: Arcane Warfare uses the same mechanics as Chivalry Medieval Warfare. The game offers various character classes, like the Vypress, who is an assassin, the powerful mage Alchemancer, Taurant, a powerful and strong warrior, Tinker who specializes in traps, Vigilist who is a support, and Entropist, a hybrid that uses a flying carpter and has both offensive and defensive powers.
Technical Aspects
Mirage: Arcane Warfare for PC / Windows uses Unreal Engine 4 from Epic Games.
Similar games:
Age Rating
age requirements: everyone
System requirements
Recommended: Intel Core i7 3770 3.4 GHz, 8 GB RAM, graphic card 4 GB GeForce GTX 970 or better, 20 GB HDD, Windows 7/8/8.1/10 64-bit