Order of Battle: Morning Sun
The first paid extension for the turn-based strategy Order of Battle: Pacific by The Aristocrats. This time the player takes part in the Second Sino-Japanese War, fought between 1937-1940. Both sides of conflict are represented by different in units and style of play. Chinese army is perfectly trained, but suffers from a number of internal problems and has obsolete equipment. On the other hand, Japanese army has been just modernized and gained considerable experience, but it was also strained by the previous conflicts. Order of Battle: Morning Sun introduces 11 historical scenarios (including the Battle of Shanghai) based on the base title's mechanics. The extension offers also new units, like Ki-10, D1A, and A4N1 bombers, the Type 98 medium tanks, fulltrack engineering vehicles Soko Sagyo Ki equipped with flamethrowers – all are used by Japanese army. The Chinese army has the Soviet-build Polikarpov fighters, Tupolev bombers, T-26 tanks, German Panzer I light tanks, Sdkfz 221/222 light armored cars, PaK-37 anti-tank guns, Italian L-3 tankettes, and British Gloster Gladiator fighters.
This is Order of Battle: World War II expansion pack.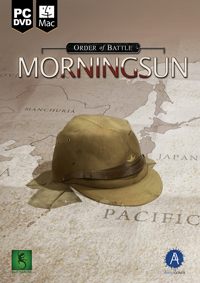 Order of Battle: Morning Sun | PC
Order of Battle: Morning Sun release date for PC:
game language:
English
28 January 2016 | Worldwide
28 January 2016 | Europe
28 January 2016 | USA
Game mode: single / multiplayer , multiplayer mode: E-mail / hotseat, players: 1 - 4
Age Rating
age requirements: everyone
System requirements
Minimum: Intel Pentium 4 1.8 GHz, 2 GB RAM, graphic card 512 MB GeForce 8800 or better, 250 MB HDD, Windows XP/Vista/7/8/10