Niffelheim
A two-dimensional exploration action adventure game with RPG and survival elements, developed by the debuting Ellada Games. The action is set in a fantasy world inspired by Viking mythology. We assume the role of a warrior whose funeral ship has been kidnapped by demons and taken into a mythical kingdom of cold and ice, the eponymous Niffelheim. The cursed creatures want the protagonist to seek out for them an ancient artifact that threatens their existence. The gameplay mechanics combine elements of several genres. While playing, we deal mostly with exploration of the randomly generated world, performing various quests and fighting encountered enemies. Survival elements are equally important, though — in the game, we have to constantly acquire raw materials, food, craft various items, and systematically expand our hideout. The title also features an RPG character development system.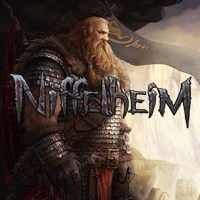 Niffelheim | PC
Niffelheim release date for PC:
game language:
English
April 2018 | Worldwide
Game mode: single / multiplayer , multiplayer mode: Internet
0 Expectations: 7.5 / 10 calculated out of 19 players' votes.
Niffelheim is an indie action RPG game for PC / Windows developed by the debuting Ellada Games. We assume the role of a nameless Viking who has died and wants to go to a paradise but to do so, he has to go through a Nordic purgatory first. The place is not only filled with picturesque locations but also numerous dangers that the protagonist has to face by expanding his fortress and protecting it from enemy attacks.
Mechanics
The game is two-dimensional and limits the hero's range of motion to four directions: left, right, up, and down.
The most important element of Niffelheim is combat with the use of melee weapons (sword, clubs), shield, and a bow. The fighting system is simply based on attacking enemies and protecting the protagonist from their attacks. Both the hero's and foes' health is indicated by classical health bars. The Vikings protagonist can restore some of it by eating and drinking potions.
The classical crafting system is equally important. New items—including the enhancement for the fortress (the protagonist's base of operations)—can be made after collecting required raw materials. We can craft new equipment, outbuildings (which provide food or crafting materials), and other enhancements.
The character development system is based on gathering experience by fighting, looting caves, and trading with craftsmen, among other things. In the future, the possibilities are to be extended by introducing an arena mode where Vikings can stand inside lists and fight spectacular battles.
Niffelheim does not punish the player with death. With each decease, the Viking (who is dead, anyway) respawns at his fortress. The only way to permanently kill the protagonist is to destroy his base, which is regularly attempted by invading enemies.
Game modes
Niffelheim offers access to a multiplayer mode where players, who assume the role of a Viking who rules one of four available lands, can either fight one another or cooperate to defeat increasingly powerful enemies.
Technical aspects
Niffelheim for PC / Windows features two-dimensional hand-drawn and very detailed graphics. The visuals created by artists at Ellada Games are characterized by unique and cold atmosphere that is typical of Nordic tales. The setting is consistent and clearly follows the "icy" leading theme. We can not only visit snowy areas overgrown with coniferous trees but also dimly lit interiors of caves that are full of dangers.
System requirements
Minimum: Intel Dual Core 1.7 GHz, 4 GB RAM, graphic card 512 MB GeForce GTX 9800 or better, 2 GB HDD, Windows XP/7/8/10