Ever Oasis
Ever Oasis is another game from the Japanese studio Grezzo, created in cooperation with Nintendo. Ever Oasis is an action RPG that focuses on world exploration and combat. Tethu, the game's protagonist, has to not only find his missing brother, but also create a well-functioning oasis in the middle of a desert to help him prepare for the confrontation with the forces of Chaos. By doing various quests we get the so-called 'dewadems', a currency that will allow us to build new buildings in our settlement and to buy more powerful equipment. During our adventures we will meet some NPCs that will aid us in our quest or will want to live in our oasis. Combat, one of the game's key elements, is purely arcade. Key to victory lies in striking effectively, doing powerful combo attacks (the possibility to swap between the members of our party anytime we want), and evading our enemies' strikes. Ever Oasis has eye-pleasing visuals. The game also features a characteristic, cartoon-inspired style.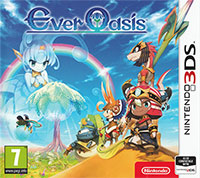 Ever Oasis | 3DS
Ever Oasis release date for 3DS:
game language:
English
23 June 2017 | Worldwide
23 June 2017 | Europe PAL
23 June 2017 | USA NTSC
Game mode: single player
0 Expectations: 7.6 / 10 calculated out of 4 players' votes.
PEGI Rating