Mario Sports Superstars
A sports game created by Camelot Co. Ltd., specifically for Nintendo 3DS. The game offers various sports disciplines, such as football, horse racing, golf, baseball or tennis. Each discipline can be viewed as a separate game, and the contestants are represented by characters such as the titular Mario, Luigi, and other Nintendo characters. Apart from the single-player mode, Mario Sports Superstars also features competition-oriented multiplayer equivalents (playable online or via local network). The game utilizes the unique capabilities of the console's 3D screen, but also makes use of the touch screen.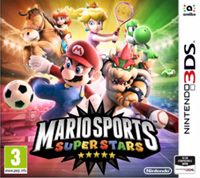 Mario Sports Superstars | 3DS
Mario Sports Superstars release date for 3DS:
game language:
English
10 March 2017 | Worldwide
10 March 2017 | Europe PAL
24 March 2017 | USA NTSC
Game mode: multiplayer , multiplayer mode: local network / Internet
0 Expectations: 9.5 / 10 calculated out of 2 players' votes.
Mario Sports Superstars for Nintendo 3DS was announced during Nintendo Direct, in September, 2016. The game offers a variety of sports challenges and the player takes part both in single-player tournaments and different kinds of multiplayer experiences.
Mechanics
The game includes the following disciplines: football, horse racing, tennis, golf and baseball. each of these comprises a different set of mechanics – particular disciplines can be viewed as separate games. For instance, when playing football (from an isometric perspective), the player can adjust the formation of their team; in case of golf or baseball, these offer many different mini-games representing the power of throw or hit. On the other hand, the player can switch between the FPP and TPP modes when horse racing. Regardless of the discipline chosen, contestants are represnted here by Mario, Luigi, and other characters the fans of Mario games can be familiar with.
Game modes
Mario Sports Superstars for Nintendo 3DS can be played solo, taking part in pre-designed tournaments, as well as with other players, either via the Internet or local network.
Technical aspects
The game comes with a three-dimensional environment and its high-quality, colorful visuals are enhanced by the unique capabilities of the console's 3D screen. The game is available both in a box edition and digital distribution.
PEGI Rating