Cold Waters
A mix of simulation and strategy game developed by the independent studio Killerfish Games. The plot is loosely based on Tom Clancy's works, telling an alternative version of history, in which the Cold War eventually turned into World War III. The player assumes the role of a submarine captain and tries to stop the Soviet Union's plans to establish an outpost in Scandinavia. Mission objectives focus on fighting enemy naval and land units, preventing sea landings, and raiding convoys. We not only get an extensive arsenal at our disposal, which consists of torpedoes and long-range missiles, but also various kinds of defensive means and a realistic sonar. Combat takes place in real time. We get to face over forty types of enemy units, starting with ships, though submarines, to choppers and aircraft. The developers put emphasis on realism, which translates into battle tactics applied by our adversaries and units recreated with attention to detail.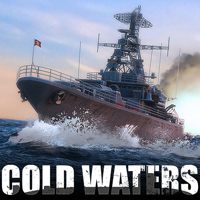 Cold Waters | PC
Cold Waters release date for PC:

game language:
English
05 June 2017 | Worldwide
Game mode: single player
0 Game score 8.35 / 10 calculated out of 18 players' votes.
Expectations before the premiere: 8.8 / 10 calculated out of 12 players' votes.
Cold Waters for PC / Windows was dubbed a spiritual successor of Red Storm Rising, a strategy simulation game about submarines that was released in 1988 for Commodore 64 by Sid Meier and MicroProse which later on became famous thanks to the Civilization series. The production was developed by Killerfish Games, the creators of Atlantic Fleet, a well-received strategy game, and the mobile Pacific Fleet. In Cold Waters for PC / Windows, we assume the role of a submarine captain and hunt for enemy air and naval units.
Plot
Plot-wise, Cold Waters for PC / Windows bears a resemblance to its predecessor, Red Storm Rising which was based on Tom Clancy's novel of the same title. In the game, we take part in World War III which the Cold War escalated into after several decades. The Soviets are trying to establish an outpost in Scandinavia, and the task of NATO is to thwart this plan. In Cold Waters, we assume command over an American submarine that was sent as a lone hunter with the mission of stopping enemy military operations.
Mechanics
The gameplay in Cold Waters for PC / Windows combines elements of strategy and simulation games. We command a submarine that is equipped with a realistically working sonar, torpedoes and long-range missiles as well as all kinds of defensive means such as decoys, jammers, and the like. Players' primary tasks include raiding enemy convoys, stopping sea landings, and open combat against naval and air units. Battles take place in real time, and the key to victory is to adopting the right tactic. Since it's usually the enemy that has us vastly outnumbered, we often have to conduct proper reconnaissance, near the enemy undetected, and choose the right moment to strike in order to deal maximum damage.
In Cold Waters, we have to face over forty kinds of historical ships and submarines as well as airplanes and helicopters of the Cold War period. Moreover, the enemy applies actual military tactics in battle.
Game modes
Cold Waters for PC / Windows offers a dynamic single player campaign in which successes and failures in individual missions determine the ultimate outcome of the war.
Technical aspects
Cold Waters is characterized by fully three-dimensional graphics and realistic physics that manifests itself both in the way that ships move and the projectile trajectory. Designing military units and environments, the developers paid great attention to faithful recreation of various details.
Age Rating
age requirements: 12+
System requirements
Recommended: Intel Core i5, 4 GB RAM, graphic card 1 GB GeForce GTX 260 or better, 4 GB HDD, Windows 7/8/10
Minimum: Intel Core i3, 2 GB RAM, graphic card 512 MB GeForce 8800 or better, 2 GB HDD, Windows XP