Fritz 15
Developed by ChessBase, another installment of one of the most popular chess series. In comparison to the previous part, Fritz 15 introduces a new game mode called Friend, in which your AI-controlled opponent adjusts his style to match your skill, may throw in remarks on possible tactical maneuvers during practice matches, and also can point out your mistakes. Moreover, Fritz 15 offers a special algorithm, which highlights your strong and weak points in each phase of the match. You can not only play with AI, but also with other players via the Internet. The title grants access to the database with around 8 million games and over 200 million chess positions. Additionally, the title offers training materials with over 34 thousand training tasks and access to the most popular chess servers at playchess.com.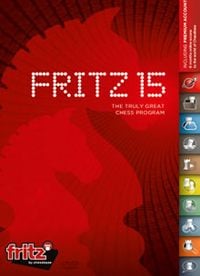 Fritz 15 | PC
Fritz 15 release date for PC:
game language:
English
15 February 2016 | Worldwide
15 February 2016 | Europe
15 February 2016 | USA
Game mode: single / multiplayer , multiplayer mode: Internet
Fritz 15 published on PC / Windows is another major instalment of one of the most popular chess series started in the early 90s. Even though Fritz's position in the JCER chess ranking, created by professional players, is not very high, the title achieved a few spectacular "successes," like defeating a chess Grandmaster Vladimir Kramnik or earning the memorable draw with Garri Kasparov in a match played in the virtual reality. The birth of the franchise and its development is brought forth by the international studio ChessBase GmbH placed in Germany.
Mechanics
Conceptually, Fritz 15 does not differ from its previous instalments and, in line with the creators' ambitions, is exactly what avid chess players need. The program by ChessBase is many things at the same time – a perfect training opponent, a great instructor, and a true chess compendium with a humongous games database and access to one of the most popular chess servers at playchess.com.
The title introduces a new feature which is a completely remodelled game mode Friend. During gameplay, AI adjusts its style to the player's skill and determines the time he needs to make a move. During training matches, the program can draw your attention to possible tactical manoeuvres; it also plays a role of a strict coach who can point out your mistakes. Moreover, Fritz 15 introduces a special algorithm which, basing on particular phases of your match, highlights your strong and weak points and helps you eliminate the latter.
Game modes
Fritz 15 for PC / Windows offers a very wide choice of game modes, starting with the training mode, through practice matches against AI, ending with facing other players through the Internet. Traditionally, the title includes a great database which grants access to around 8 million games, 200 million analyses of chess positions, training video materials, and over 34 training tasks which will help you master different aspects of the game.
Technical aspects
Visuals in Fritz 15 are not very different from what we saw in the series' previous instalments. However, this is the chess engine that is crucial. Just like Fritz 14, this production is developed by a completely different author – a controversial creator of other chess engine Rybka, namely Vasik Rajlich. Privately married to the Grandmasters Iweta Rajlich, he is disqualified for a lifetime by ICGA (International Computer Games Association).
Other information
The 64-bit engine prepared for this game can, theoretically, make use of 2048-core processors!
Similar games:
Age Rating
age requirements: everyone
System requirements
Recommended: Intel Core i5, 8 GB RAM, graphic card 512 MB, 1 GB HDD, Windows 8.1/10
Minimum: Intel Pentium III 1.0 GHz, 2 GB RAM, graphic card 256 MB, 1 GB HDD, Windows XP(SP3)