WipEout: Omega Collection
A collection of two refurbished titles from a series of futuristic racing games for PlayStation 4. WipEout: Omega Collection consists of two titles: WipEout HD, with an expansion – Fury, and WipEout 2048. The player takes control of an anti-gravity vehicle and takes part in various competitions, racing against the clock as well as other pilots. The individual machines require dexterity and some knowledge of their specifications: handling, speed, or durability. Once the race begins, its free-for-all - we can harass other participants and get harassed ourselves. The tracks are very complicated, often twisted, or decreasing in width, while our vehicles quickly accelerate to haze-inducing speeds. As a result, having a favorite vehicle helps a lot. WipEout: Omega Collection offers a number of gameplay modes divided between the games included in the set, including split-screen and online modes. All titles have been upscaled to 4K, and run at 60 frames per second.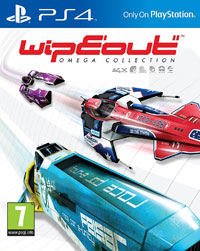 WipEout: Omega Collection | PS4
WipEout: Omega Collection release date for PS4:
game language:
English
07 June 2017 | Worldwide
07 June 2017 | Europe PAL
07 June 2017 | USA NTSC
Game mode: single / multiplayer , multiplayer mode: Internet / split screen, players: 1-8
0 Expectations: 8.8 / 10 calculated out of 8 players' votes.
WipEout: Omega Collection for PlayStation 4 is a new installment of futuristic racing games dedicated to PlayStation consoles from the birth of the fifth generation. Finally, PlayStation 4 received its own Wipeout title, which in essence isn't a new game, but a compilation of three refurbished games from the previous generation – WipEout HD + Fury add-on from PlayStation 3, and Wipeout 2048 from PlayStation Vita.
Mechanics
Basically, Wipeout is a challenging racing game that allows us to take control of anti-gravity vehicles, taking part in various races battling the time and other pilots. Controlling individual machines (in all, 46) requires agility, while each vehicle retains its individual feel, and his its own set of parameters, such as handling, speed, or even durability – during the races, we can be attacked by other drivers using weapons that can be acquired by collection of markers during the race.
One of the prerequisites to success is learning the course – In all, we are left with 26 race tracks that are known for being complicated, and fast-paced at the same time – the tracks often swerve, shirk, while the vehicles reach breakneck speeds in a matter of seconds. Additionally, time attacks make use of e.g. accelerating fields, location of which have to be known by heart.
Game Modes
In all, WipEout: Omega Collection for PlayStation 4 introduces nine gameplay modes, divided between the games in the compilation: Zone, Tournament, Speed Lap, Time Trial, and Single Race from WipEout HD, Zone Battle, Eliminator, and Detonator from Fury, and Career Mode from WipEout 2048. As always, we've received a split-screen multiplayer mode and an online mode for up to eight players.
Technical Aspects
All the games have been adapted to modern graphical standards, and were upscaled to HD resolutions (including 4K) working at 60 frames per second. Additionally, the developers introduced new soundtracks.
Similar games:
PEGI Rating