Cattle and Crops
A farming simulator developed by a German studio – Masterbrain Bytes. The gameplay revolves around running a farm, which requires players to prove their skills in many agricultural fields. Because of the realistic weather system, on has to tend to sowing, soil fertilization and the crops' condition – if, during a longer period of drought, one does not irrigate his crops they will wither in an instant. In order to handle the virtual farm in the most effective way, players have to learn how to operate agricultural machinery (the vehicles implemented herein are counterparts to machines of such makes as Claas, Horsch, Dammann, and Mercedes-Benz). This is not easy – the bed' condition affects how these vehicles behave. Animal husbandry, on the other hand, forces players to take care of the feed, tidy the farmhouse, and prevent any diseases. Luckily, with time, players are able to employ workers, who handle some of the responsibilities and at the same time gain experience and to become even more efficient. Those among the players who are new to this kind of simulator games can make use of a number of facilitations and adjust the difficulty level according to their preference. Apart from the single player campaign, Cattle and Crops offers a Sandbox Mode - in which one can manage his farm with no limitations - as well as a multiplayer mode allowing players to work together.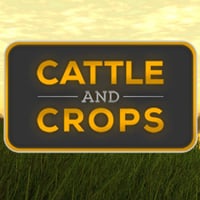 Cattle and Crops | PC
Cattle and Crops release date for PC:
game language:
English
TBA | Worldwide
Game mode: single / multiplayer
0 Expectations: 9.5 / 10 calculated out of 67 players' votes.
Cattle and Crops is a farming simulator developed by a German studio – Masterbrain Bytes, who acquired the funds for developing the game through a Kickstarter campaign. Unlike other agricultural simulators, Cattle and Crops is a well-developed game featuring numerous possibilities.
Mechanics
In Cattle and Crops for PC / Windows one has to run a farm, however, it is not limited to sowing and harvesting the crops. To manage his farm efficiently enough, a player has to master particular agricultural machines representing real vehicles of the makes like Claas, Damman, Horsch, Hawe, Stapel, and Mercedes-Benz. The driving physics have been thoroughly developed – the handling is affected by the condition of the bed on which one drives, and the entire experience is enriched with the realistic sound effects and ability to adjust side mirrors.
Since there is plenty of work to be done on the farm, employing some additional helping hands is well worth considering. Workers can be assigned to various tasks – from transporting fruit, through fertilizing the soil, to taking care of the animals. Additionally, these workers acquire experience affecting their overall efficiency.
The breeding animals make for another piece of this agricultural puzzle. Should one launch an animal husbandry, he has to provide proper feed, tidy the farmhouse, and prevent the animals from catching any diseases.
Everything that has already been described herein is accompanied by a realistic weather system – long drought forces players to irrigate their fields; otherwise, their crops will wither. Long periods of rain, however, can hinder vehicle handling because of the wet bed.
Interestingly enough, developers from Masterbrain Bytes wanted Cattle and Crops to be a game not only for farming simulator veterans, but also for those players who want to begin their adventure with such games. The latter ones can use the available facilitations – among others, one can disable weather's influence on the gameplay or switch the realistic physics to a more forgiving system.
Game modes
The game features three main game modes – the first one is the single player campaign, in which one has to live a farmer's life and develop his rural business. The Sandbox Mode allows players to play with no limitations (no character specialization, no experience points, etc.). Moreover, Cattle and Crops for PC / Windows delivers a solid multiplayer mode, in which one can invite other players to run a farm together or join forces and help someone else with their farms.