Attentat 1942
A text-based adventure game with interface-based minigames taking place in occupied Czechoslovakia during World War II. The grandfather of the main hero has been arrested by Gestapo following a successful assassination attempt on Reinhardt Heydrich. Our task is to find him and learn the truth about his role in the whole operation. Attentat 1942 offers a complete adventure game experience, consisting of conversations with encountered characters and demanding minigames. The individual events are shown through comic book recaps mixed with rare audio recordings and role-playing features starring real actors. As a result, the game mixes a number of narrative techniques into a coherent experience, further reinforced by dialogues written thanks to a thorough input of professional historians.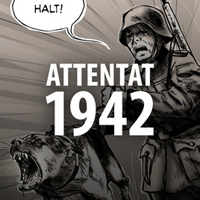 Attentat 1942 | PC
Attentat 1942 release date for PC:

game language:
English
31 October 2017 | Worldwide
Game mode: single player
0 Expectations: 7.1 / 10 calculated out of 4 players' votes.
Attentat 1942 is an unusual adventure game released for PC / Windows. The project is being developed by Prague's Charles University, supported by historians and employees of Czech Academy of Sciences.
Plot
The action of the game takes place in Nazi-occupied Czechoslovakia. The famed assassination attempt that eventually took the life of Reinhardt Heydrich has ended with a major crackdown that has led the Germans to arrest the grandfather of the protagonist. The man decides to find him and learn about the role his relative has played in the whole operation, as it seems like the arrest wasn't random.
Mechanics
Attentat 1942 attempts to deliver a fully-fledged adventure game experience. Our actions include getting information from numerous conversations and solving demanding minigames. The game is characteristic for its historical value – the screenplay was written thanks to thorough input from a team of professional historians, while the game is complemented with rare audio recordings. As a result, we are left with a rich historical source that recreates the atmosphere of that period in Czech history.
Technical Aspects
The game mixes a number of narrative techniques into a unified experience. The individual events are introduced through a comic book recap, reinforced by the aforementioned audio recordings and role-play scenes featuring real actors that assume the roles of the interrogated witnesses.
Similar games:
Age Rating
age requirements: everyone
System requirements
Minimum: Intel Core 2 Duo 2 GHz, 2 GB RAM, graphic card Intel HD or better, 4 GB HDD, Windows 7/8/10