Shadow of the Colossus
A remake of one of the greatest iconic PlayStation 2 titles. The original game debuted in 2005 and six years later it was released on PlayStation 3 in HD version. In Shadow of the Colossus the player assumes the role of a young man named Wander who places the body of his beloved on a mysterious altar hidden in the wild. He learns that he will be able to restore her life if he manages to defeat sixteen giant creatures known as the Colossi. During the game the player travels through a large and secluded area on the back of his horse Agro in search for clues that can lead him to the opponents. The combat with each opponent is a separate and very hard challenge, in which finding the weak points of a Colossus is the key to victory. The protagonist is well trained in using a sword and a bow. He can also climb – not only on the surrounding, but on the bodies of the Colossi as well.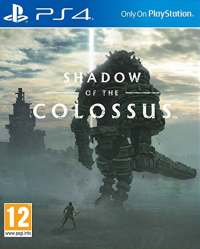 Shadow of the Colossus | PS4
Shadow of the Colossus release date for PS4:
game language:
English
06 February 2018 | Worldwide
07 February 2018 | Europe PAL
06 February 2018 | USA NTSC
Game mode: single player
0 Game score 8.42 / 10 calculated out of 20 players' votes.
Expectations before the premiere: 9.4 / 10 calculated out of 79 players' votes.
Similar games:
PEGI Rating