Frantics
A collection of party and arcade mini-games, created by Sony company in cooperation with Dutch studio NapNok for up to four players. Players start their adventure with Frantic by choosing one of two animal avatars that will represent them in a virtual world. Then they compete with each other in various arcade challenges, most of which require not only skill and good reactions, but more than anything they test wits and the ability to bluff. The game requires each player to possess their own tablet or smartphone with PlayLink application installed, since it is used to interact with characters on TV screen and perform tasks and challenges. It is up to players to decide if they want to cooperate or compete with each other on their way to victory.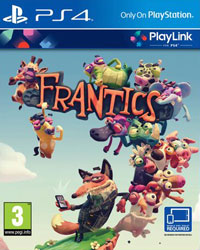 Frantics | PS4
Frantics release date for PS4:

game language:
English
06 March 2018 | Worldwide
07 March 2018 | Europe PAL
Game mode: single / multiplayer , multiplayer mode: Internet / common screen
0 Expectations: 9.0 / 10 calculated out of 1 players' votes.
Similar games:
PEGI Rating