Puzzle Adventure Blockle
A funny logic game in which the gameplay is based on rotating entire levels. By doing that we help the hero to reach exit, collect various items and avoid dangers. Puzzle Adventure Blockle has two main characters – a cat called Kulu, who was sent by Katz city mayor to find seven stones that can help him to take over the world, and beautiful goddess, Arkia, who can manipulate levels. She agreed to use her powers because she has problems with her memory and she was promised that she can return to her world if she completes the mission. The game was developed by a Japanese studio called Intense who can be known for its action game Dot Runner: Complete Edition. Puzzle Adventure Blockle graphics are made in 2D set in a funny manga graphic style. The game, available on Nintendo Switch, can be acquired for a small price but was released only in digital distribution.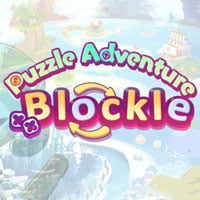 Puzzle Adventure Blockle | Switch
Puzzle Adventure Blockle release date for Switch:

game language:
English
03 August 2017 | Worldwide
Puzzle Adventure Blockle is a 2D logic game available on Nintendo Switch. The game was developed by a Japanese studio called Intense which can be known for, e.g. Dot Runner: Complete Edition. The game is available in digital distribution.
Plot
Although plot isn't that important in these types of games, the developers created a simple story that motivates us to keep playing. The mayor of Katz city, which is populated by cats, claims that the world would be a better place if cats were the ones ruling it. However, in order to do that he needs to find seven magic stones. This mission is given to one of the cats, called Kulu who is accompanied by goddess Arika, who was summoned by the mayor.
Mechanics
Our objective is simple. In Puzzle Adventure Blockle, we need to lead Kulu to exit that is located on a small level. However, the problem is that the cat can't move entirely on his own. Luckily, Arika has powers that allow her to rotate entire levels. By using it we move the cat (or rather make him fall after rotating a level) but he stops when he comes across an obstacle such as a wall or a stone block.
Even though the gameplay may seem trivial, it has a lot of various elements. The levels have objects that can be collected in order to increase total score. In the later stages we can come across dangerous obstacles – usually, touching them results in death. Even coming up with a way that allows us to reach exit becomes more and more complicated.
Technical aspects
Puzzle Adventure Blockle, available on Nintendo Switch, isn't technically advanced. The developers from Intense used a manga graphic style that is simply acceptable. However, dialogs between the characters are a nice addition. During those scenes we can see characters' silhouettes that appear on screen, and the dialogs itself are presented in speech bubbles.
Similar games:
Age Rating
age requirements: everyone