Farmer's Dynasty
An advanced farm simulator with RPG and life simulator features. The title was developed by Toplitz Productions. The player assumes the role of a rookie farmer who inherited a farm after his deceased grandparent. Protagonist's task is to lead the ruined farm to prosperity and to earn enough money to modernize it. Farmer's Dynasty features a vast, open world that can be freely roamed (on foots and by using various vehicles; in addition to the inherited tractor the player can use more modern and advanced vehicles). The main pillar of the game is tasks that push the story forward. Among them there are objectives unrelated to farming – sometimes player must also repair some tools or modernize a specific building. The player's duties also include breeding animals, trading surpluses of the crops. Later in the game the player can create a family and raise offspring.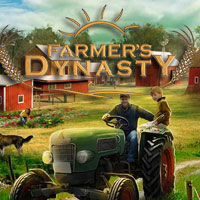 Farmer's Dynasty | PC
Farmer's Dynasty release date for PC:

game language:
English
2018 | Worldwide
Game mode: single player
0 Expectations: 7.9 / 10 calculated out of 152 players' votes.
Farmer's Dynasty is an advanced farm simulator with additional role-playing game and life simulator traits. The title was developed by Toplitz Productions and released on PC / Windows.
Plot
The player meets the main protagonist of Farmer's Dynasty when they arrivew at the countryside to see the farm they inherited after their deceased grandfather. The possession is almost completely ruined – the roofs are rusty and the walls of buildings are filled with holes. The tools available there, like an ancient tractor, are definitely not what a young, aspiring farmer would dream of. As one could guess, the protagonist is tasked with cleaning the place and earning enough money to modernize the farm.
Mechanics
The PC / Windows version of Farmer's Dynasty features a vast, open world that can be freely roamed. The player moves through the farm on foot, but in order to reach more distant places and to work in the field he uses various vehicles – in addition to the above mentioned, inherited tractor, there are more modern and advanced machines available.
The main objective in the game is to complete tasks received from non-playable characters. They enable the player to push the story forward. The missions aren't limited to working in the field – from time to time the player must, for example, repair some tools or modernize one of the buildings. Other activities include taking care of farm animals and trading crop surpluses. The game also enables the player to start a family and raise a kid in order to continue the titular "dynasty".
Technical aspects
The three-dimensional graphics of Farmer's Dynasty are of mediocre quality. What's worth mentioning is the fact that the machines available in the game are based on actual vehicles – for example, the title features an old John Deere tractor.
System requirements
Recommended: Intel Core i5 2.8 GHz / AMD Athlon 64 X4 2.8 GHz, 8 GB RAM, graphic card 2 GB GeForce GTX 960 / Radeon R9 370, 8 GB HDD, Windows 10
Minimum: Intel Core 2 Duo 2.2 GHz / AMD Athlon 64 X2 2.2 GHz, 4 GB RAM, graphic card 1536 MB GeForce GTX 580 / Radeon HD 7850 or better, 8 GB HDD, Windows 7/8/10