Command & Conquer: Tiberian Sun
The third entry in the ground-breaking real-time strategy game series, this time calling back to the very first game from 1995. The game itself, however, takes us to the beginning of 21st century and once again puts us in charge of the weakened Nod Brotherhood or GDI alliance that tries to maintain the world peace under the command of General Salomon. Despite what we could have thought, the charismatic leader of Nod did not die under the ruins of his temple and is quick to begin a new conflict, which can change the world forever. Gameplay of Tiberian Sun doesn't differ much from the original, though the creators from Westood studio made sure to implement some changes and novelties. Each faction has new buildings and units that force us to develop new tactics. There also additions like new, three-dimensional game engine, improved cutscenes with well-known actors (including James Earl Jones and Michael Biehn) and enhanced multiplayer for up to 8 players.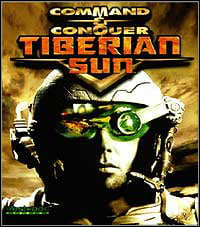 Command & Conquer: Tiberian Sun | PC
Command & Conquer: Tiberian Sun release date for PC:
game language:
English
24 August 1999 | Worldwide
Game mode: single / multiplayer , multiplayer mode: local network / Internet, players: 1 - 8 , size: 2 CD
0 Game score 8.2 / 10 calculated out of 506 players' votes.
Command & Conquer: Tiberian Sun is a direct continuation of original Command & Conquer (unofficially known as Tiberian Dawn). It has been created by the same developer from Westwood studio.
Plot
Command & Conquer: Tiberian Sun continues the story of the first game in the series, but starts at the beginning of the 21st century. The Brotherhood of Nod breaks down into smaller factions after the loss of its leader, while Global Defensive Initiative (GDI) alliance seemingly maintains the world peace under the command of General Salomon. However, everything changes when it turns out that humanity's biggest enemy, Kane, the leader of the old Brotherhood, did not die in the ruins of his Temple and quickly reignites the conflict that will decide the fate of the world, already tormented by the spread of Tiberium.
Game mechanics
Command & Conquer: Tiberian Sun for PC / Windows introduces many novelties. Each faction has their own campaign with more than dozen scenarios, some of which can be skipped. This makes the game a little more difficult (as additional scenarios are supposed to make the gameplay easier), but it also speeds it up a lot. Neither scenario is a simple mission to destroy everything, as there are often situations similar to those from Command & Conquer: Red Alert, where there are multiple objectives, all of which must be fulfilled to complete a map. There are also many civilians, as well as units of Mutants that can join or fight us, depending on their attitude.
As in the previous games from the Command & Conquer series, each side has a vast array of units, and they both have different arsenal that leads to different tactics being used. Brotherhood of Nod uses e.g. vehicles that can move underground, artillery with incredibly long range and many cyborgs and well-trained infantry that can decimate opponents. On the other hand, GDI gets access to better technologies, giving it vehicles of unmatched firepower. An upgraded version of Mammoth is an ultimate machine of destruction, being able to destroy almost any building with one shot. As for the command center, the alliance has a few types of sentries that are fixed to fixed elements (the same applies to power plants). Brotherhood has more destructive defensive structures (like well-known and liked Obelisk of Light), but they also have a huge cost and require a lot of space.
Game modes
Aside from single player campaign, Command & Conquer: Tiberian Sun for PC / Windows features complex multiplayer for up to eight players. Additionally, maps can be randomly generated, which raises the quality of skirmishes along with changeable modes. Those who enjoy surprises can turn on an ion storm or meteor rain that will turn their bases to dust.
Technical aspects
One of the biggest novelties introduced in Command & Conquer: Tiberian Sun was a new, fully three-dimensional engine presented by Westwood Studios that greatly improved visuals of the game. Unfortunately, it still doesn't allow players to operate the camera freely, forcing the isometric view that can't be changed. Cutscenes look much better and were recorded with live actors, including celebrities like James Earl Jones (the voice of Darth Vader from Star Wars) and Michael Biehn (Sergeant Hicks from Aliens).
Similar games:
PEGI Rating
System requirements
Recommended: Pentium II 266MHz, 32MB RAM