Command & Conquer: Red Alert 2 - Yuri's Revenge
The official expansion to Command & Conquer 2: Red Alert 2, the renowned RTS released in 2000 by the Westwood Studios company. The expansion pack, titled Yuri's Revenge, expands the storyline of the vanilla version by adding an additional plot thread, in which Yuri – the advisor of the main antagonist of Red Alert 2 – is the lead character. Similarly to the previous installment of the production, the single player campaign has been divided into two separate parts (seven missions for each of the factions), allowing us to declare ourselves either for the Allied or the Soviet side of the conflict. The multiplayer mode has also been further developed with the addition of ten new scenarios and also an entirely new faction – the forces of Yuri. Furthermore, the title also features previously unavailable regions, such as Hollywood, London, Cairo or Transylvania; several unique buildings and units have also been added to the expansion, including the Virus sniper, the genetically modified Brute, the Boomer submarine, as well as the Slave Miner excavation vehicle. The developers have also prepared over an hour of HD cutscenes to further enhance our gameplay experience.
This is Command & Conquer: Red Alert 2 expansion pack.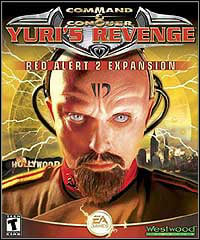 Command & Conquer: Red Alert 2 - Yuri's Revenge | PC
Command & Conquer: Red Alert 2 - Yuri's Revenge release date for PC:
game language:
English
17 October 2001 | Worldwide
17 October 2001 | Europe
Game mode: single / multiplayer , multiplayer mode: local network / Internet, players: 1 - 6 , size: 1 CD
0 Game score 7.5 / 10 calculated out of 854 players' votes.
Yuri's Revenge is an expansion pack which enriches the basic version of Red Alert 2 with many new elements which make the gameplay even more fun. This includes:
New side of the conflict, Yuri's Psychic Army, right next to the Allies and Soviets.
Fourteen new missions for the single player mode, in which you will face the dangers caused by Yuri's forces.
Ten new missions for the multiplayer mode, in which you can take whichever side of the conflict.
New units, buildings, and vehicles. For example: Virus – sniper shooting poisoned bullets; Brute – powerfully built, genetically modified footman able to destroy vehicles; Boomer – submarine equipped with powerful rockets and able to attack objects placed on shallow waters; Slave Miner – mining vehicle equipped with an on-board refinery.
New locations in which the action takes place: Hollywood, London, Cairo, Transylvania, etc.
Over an hour of new, high-definition, filmed cut-scenes.
Similar games:
PEGI Rating
System requirements
Recommended: Pentium II 266MHz, 64MB RAM