Quest for Glory IV: Shadows of Darkness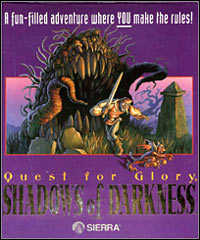 Quest for Glory IV: Shadows of Darkness | PC
Quest for Glory IV: Shadows of Darkness release date for PC:
game language:
English
10 December 1993 | Worldwide
A fun-filled adventure where YOU make the rules!
Dark magic has drawn you to Mordavia. Undead creatures walk the forest by night; everyone you meet seems strange and uneasy. It's up to you to make friends, influence people, and unravel the mysteries of the Dark One - all before breakfast. Shadows of Darkness cover the land; it's time to be a Hero again!
* Create your own character, choosing a Fighter, Magic User, or a Thief. Puzzles, combat, and obstacles change according to your character type and development.
* Start fresh or import your character from Quest for Glory I, II, or III.
* Fight monsters with a sophisticated new battle system that lets you choose skill level and combat type - from pure strategy to adrenaline-pumping, thumb-twitching arcade action.
* Unravel A LOT of puzzles - nearly three times as many as found in other adventure games
Age Rating
age requirements: everyone
System requirements
Recommended: PC 386 25MHz, 4MB RAM, VGA