Heroes of Might and Magic III: The Shadow of Death
The second, and this time a standalone expansion to the renowned turn-based strategy Heroes of Might and Magic III from the New World Computing studio, which was released in the spring of 1999. The storyline of the expansion titled The Shadow of Death, revolves around the character of a necromancer named Sandro, who manipulates four heroes for the sake of his own goals; he means to use them to combine two mighty artifacts and gain control over the world. Only the cooperation of the aforementioned four heroes can stop this villain from achieving his evil goals. Apart from the full content of the original version of the game, the expansion brings seven new campaigns (with the option to choose the difficulty level) and 38 scenarios, with 8 new terrain types among other features. The production also features ten new teleporters and previously unavailable artifacts, with the brand new mechanic of combining them into one "super artifact". The Shadow of Death also brings numerous adjustments and enhancements in the area of the mechanics.
This is Heroes of Might and Magic III: The Restoration of Erathia expansion pack.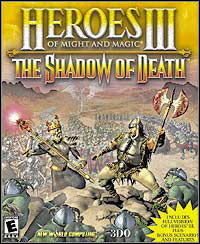 Heroes of Might and Magic III: The Shadow of Death | PC
Heroes of Might and Magic III: The Shadow of Death release date for PC:

game language:
English
22 March 2000 | Worldwide
Game mode: single / multiplayer , multiplayer mode: local network / Internet, players: 1 - 8 , size: 1 CD
0 Game score 7.63 / 10 calculated out of 2021 players' votes.
This time around the story from the land of might and magic revolves around the necromancer named Sandro, who cunningly manipulates four heroes for his own gain. Yog the barbarian and Gelu the elf are sure that by helping Sandro they will achieve the fame they have always dreamed about. The motivations of Crag, another barbarian, are much simpler – gold, while Gem, who just recently got back from the war of succession in Erathia, seeks to free himself from the ghosts of his fallen comrades. With the help of the abovementioned heroes, Sandro hopes to combine two powerful artifacts, thanks to which he will rule the world. Only those four adventurers can stop the necromancer from destroying the lands of Erathia and AvLee.
The Shadow of Death, apart from new campaigns and single missions, also comes with the original Heroes of Might & Magic III. The biggest news is the possibility of creating so-called superartifacts that grant incredible powers. The expansion also introduces new heroes and units.
86 single missions and 14 campaigns, including the original maps from the Restoration of Erathia, and 38 scenarios and 7 missions of the Shadow of Death.
16 character classes, 145 units and hundreds of buildings and creatures, including 10 new teleports.
138 magical items to find, including 12 powerful and complex artifacts.
System requirements
Recommended: Pentium 166MHz, 32MB RAM