The Legend of Zelda (Classic NES Series)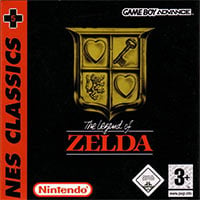 The Legend of Zelda (Classic NES Series) | GBA
The Legend of Zelda (Classic NES Series) release date for GBA:
game language:
English
07 June 2004 | Worldwide
09 July 2004 | Europe
07 June 2004 | USA
Game mode: single player
0 Game score 7.8 / 10 calculated out of 123 players' votes.
Embark on a quest to find the Triforce, slay Ganon and save Princess Zelda in this enduring epic that single-handedly invented the adventure genre. It's part of the NES Classic Series of specially priced masterpieces!
Features
* Link's legendary first adventure, now portable!
* Explore dungeons, solving baffling puzzles and defeating scores of menacing enemies
* A quest bristling with secrets: Unlock dozens of hidden passages and caves
* Weapons include swords, boomerangs, bombs and arrows
* Collect rupees to buy swords, shields and other special items
Before she was captured by the Dark Lord, Ganon, Princess Zelda scattered the pieces of the Triforce across her beloved Hyrule. Link must reassemble the Triforce and defeat Ganon before he can free the princess.
Bottom Line
In this tour de force, master game designer Shigeru Miyamoto brilliantly blended adrenaline-pumping real-time combat and engrossing puzzles with a timeless story of a young man's heroic quest. The result: a classic as popular today as it was the day it was published.
If you've never played The Legend of Zelda, you owe it to yourself to get this classic. If you played it years ago, it's high time to revisit one of the greatest gaming experiences of all time.
PEGI Rating